Man hit by MUNI train identified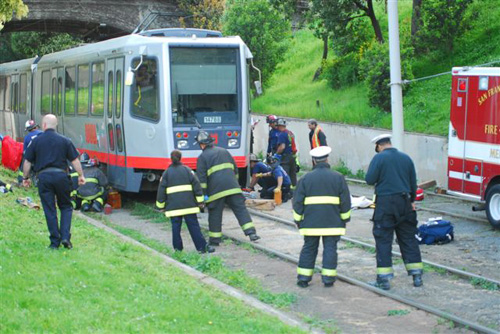 Rescue workers work to recover the body of Edwardo Funes, 40,
who was struck by a MUNI train earlier today near the intersection
of 18th and Church streets.
Photos by Mark Grissom, Special to Fog City Journal

By Lara Moscrip, Bay City News Service

March 18, 2007
SAN FRANCISCO (BCN) - The man who died this afternoon after being struck by a San Francisco Municipal Railway metro train was identified as Edwardo Funes, 40, by the San Francisco medical examiner's office.
According to a San Francisco Fire Department dispatcher, firefighters were called to the scene of the accident around 4:34 p.m.
According to witnesses, the man was trapped under the Muni train approximately 150 feet from the intersection of 18th and Church streets near Dolores Park.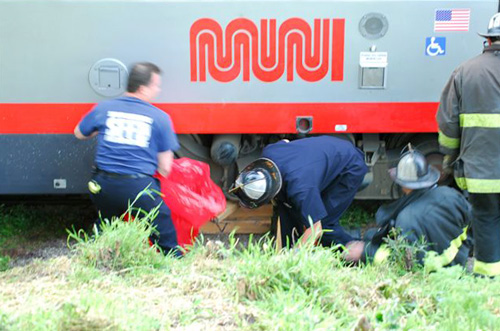 Muni service on the J-line was disrupted this evening. According to San Francisco Municipal Transportation Agency spokeswoman Maggie Lynch, bus shuttles replaced regular Muni metro service from 16th and Church streets to 30th and Church streets.
Copyright © 2007 by Bay City News, Inc. -- Republication, Rebroadcast or any other Reuse without the express written consent of Bay City News, Inc. is prohibited.
####