Peskin introduces MUNI reform for November ballot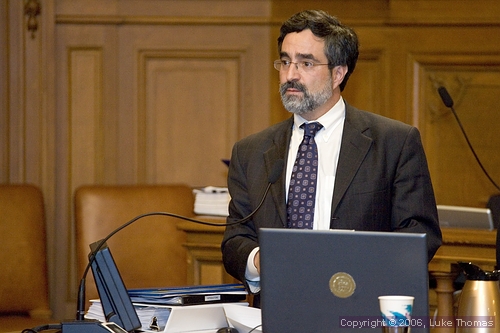 San Francisco Board of Supervisors President Aaron Peskin.
Photo(s) by Luke Thomas
By Tamara Barak

May 23, 2007
San Francisco Board of Supervisors President Aaron Peskin introduced a measure yesterday that aims to make the city's public transit more reliable while cutting waste and reducing carbon emissions.
Peskin presented the legislation at the end of yesterday's Board of Supervisors meeting. It will now be submitted to the board's Rules Committee, which will hold it for 30 days before voting on it. If passed by the Rules Committee, it will come back before the full board. The proposal must receive six votes on the 11-member board to make it to the Nov. 6 ballot.
"If we are serious about being a green city, a reliable public transit system must be our first priority," Peskin said in a statement. "In order to get people out of their cars, we first need a Muni that gets people where they're going - that's what this charter amendment is all about."
For the first time in San Francisco's history, the measure would require in the city's constitution that the Municipal Transportation Agency produce a plan to reduce carbon emissions from all vehicles and increase ridership.
Under the legislation, MTA officials would work to reduce carbon emissions from transit vehicles to 80 percent of their 1990 levels by 2012.
The MTA would be required to report on its progress every two years.
The legislation also seeks to increase the amount of revenue MTA receives from parking fees and streamline operations by giving the agency greater contracting freedom.
The measure would also require that pay for MTA managers be linked to performance and would remove the salary cap for transit operators.
Copyright © 2007 by Bay City News, Inc. -- Republication, Rebroadcast or any other Reuse without the express written consent of Bay City News, Inc. is prohibited.
####