Murphy takes in City sites
as Bonds ball heads to New York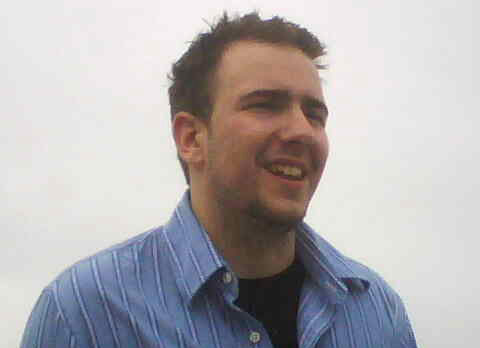 Mets fan Matt Murphy, 21, of Queens, N.Y., caught Barry Bond's record setting 756th homer
at AT&T Park in San Francisco yesterday.
Photos by Emmett Berg, special to Fog City Journal
By Emmett Berg
August 8, 2007
Where in the world is the nation's most coveted baseball?
The 756th home run ball hit by Barry Bonds on Tuesday was on its way to New York today, carried by a cousin of 21-year-old Matt Murphy on an airplane to New York and then a Manhattan bank.
Meanwhile, Murphy and two friends were taking in North Beach on an extended layover.
Murphy, of Queens, N.Y., said he was one bite into a $15 crab sandwich when the melee erupted after Bonds' blast. The sandwich and any beers on the bleachers were knocked aside by the surging crowd, which followed the ball into higher up seats.
But then the ball appeared to ricochet down past seats just vacated by ball-hungry fans.
"I was lucky because I caught it on the hop," Murphy said in an interview near the shoreline at Aquatic Park. "Then I just hit the ground."
With the ball clutched in his gut, Murphy's knees above him and his back exposed, a series of kicks and scratches rained down on him from advancing fans, he said.
"That was the longest minute of my life," Murphy said. It was also much better then the two foul balls he had previously caught at Major League games, one each at Yankee and Shea stadiums.
His two buddies, Amir Kamal, 21, and Ryan Breslin, 22, momentarily lost contact with Murphy. They were later corralled by police, identifiable by Kamal's Yankee jersey.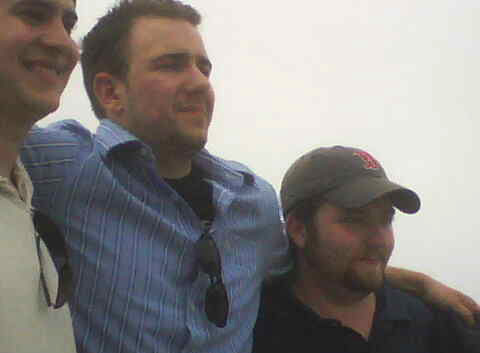 Buddies Amir Kamal (left) and Ryan Breslin (right) with Matt Murphy (center).
When police and security personnel reunited the trio in the depths of AT&T Park at around 9 p.m. Tuesday, they surveyed the scratches and kick marks delivered onto Murphy in the scrum of fans that formed after the home run. He was all right.
Murphy said plainclothes officers of the San Francisco Police Department were assigned to lead the three back to their hotel, the Holiday Inn in North Beach. The officers told them to change to another hotel and reserve it under a different name. The officers saw them safely to Marriott Fisherman's Wharf.
"The SFPD was great," Murphy said. "They saved my ass."
By chance one of Murphy's cousins was also in San Francisco, and he gave him the home run ball to take back with him on his flight to New York. Though he shunned a news conference locally, Murphy gave interviews to New York newspapers this afternoon.
Wearing a t-shirt and a FDNY ball cap in the late afternoon, Murphy had packed away the Mets jersey he wore Tuesday night. He was finding wearing a t-shirt at Aquatic Park a little cold. "Is that people swimming out there?" he asked.
It was only a few weeks ago when Murphy, Kamal, and Breslin decided to take in a Giants game during a layover on their trip to Australia.
They will visit Breslin family land in Australia during their trip. Ryan Breslin is the brother of actress Abigail Breslin, who was featured in the 2006 film "Little Miss Sunshine."
The overseas trip had a 27-hour layover. Though centerfield tickets at AT&T Park went for $100 each on the secondary ticket marketplace StubHub.com, they went ahead and purchased them in what may turn out to be a big payoff.
Murphy said he promised 49 percent of the ball's net worth to Kamal in a pregame deal to split the payout if either caught Bonds 756th homer.
"Lucky guy, he didn't have to do anything," Murphy said of Kamal, who smiled back.
No plans have been made for the future of the ball, Murphy said.
"I'm certainly not going to take the first offer I get," he said.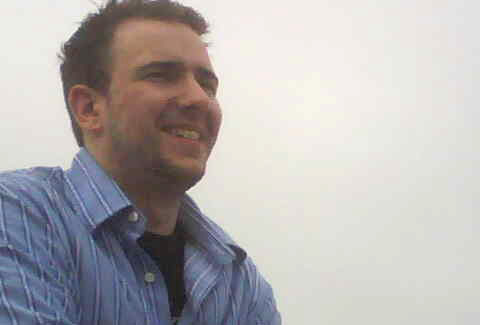 Copyright © 2007 by Bay City News, Inc. -- Republication, Rebroadcast or any other Reuse without the express written consent of Bay City News, Inc. is prohibited.
####