Fog City News in Brief
By Lara Moscrip

May 24, 2007
Gwen Chan to step down as SFUSD Superintendent
Citing a desire to spend more time with her family, San Francisco Unified School District Interim Superintendent Gwen Chan announced Wednesday that she does not want to be considered in the search for a permanent schools chief.
"I feel strongly that the district needs long-term leadership," said Chan. After working for the school district for 40 years, and spending 21 years as a widow and single parent, Chan said she plans to devote her time to her two grown sons and contribute to the schools in other ways.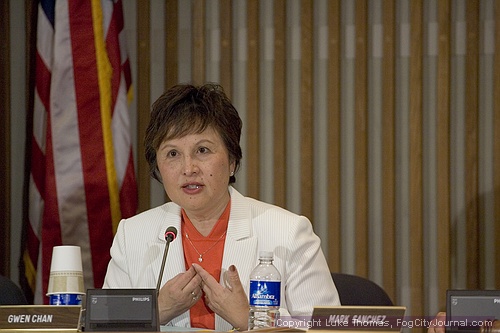 Gwen Chan
Chan, who has led San Francisco's public schools for the past 17 months, explained her decision at an emotional press conference Wednesday afternoon at Francisco Middle School, where she was the valedictorian in 1960.
Chan will step down as interim superintendent July 1. Saying she felt blessed, Chan teared up as her colleagues gave her a standing ovation.
Mayor Gavin Newsom praised Chan for the Partnership for Achievement she helped develop, which agrees on shared strategies between the schools and the city.
Calling Chan "a breath of fresh air," the mayor said he unsuccessfully tried to convince her to apply for the superintendent position.
"I am immeasurably disappointed by her decision," he said.
Meanwhile, the search for a superintendent will continue.
Board of Education President Mark Sanchez said the board is "very
close to the point where we can announce a name" of a candidate for superintendent.
Senator Migden under the influence of medication for leukemia
A spokeswoman for state Sen. Carole Migden confirmed that Migden is taking medication for leukemia and that may have caused her to become disoriented leading up to an incident in which she struck a car driven by a woman with her daughter Friday near Fairfield.
The California Highway Patrol said Wednesday afternoon it will recommend the Solano County District Attorney's Office charge Migden with an infraction for driving too fast for road conditions during one of two accidents on Friday.
CHP Sgt. Wulf Corrington said the CHP is still investigating several witnesses' statements that Migden, D-San Francisco, was driving recklessly from the Carquinez Bridge to Highway 12 at Beck Avenue near Fairfield on Friday. She faces possible misdemeanor charges for reckless driving, Corrington said.
Migden's 2007 Toyota Highlander struck a 2005 Honda injuring a Vallejo woman and her toddler daughter in the Honda in the crash near Fairfield, the CHP said. Corrington said Migden was driving too fast in slowing traffic.
Migden's Highlander also struck a guardrail in the center median on Interstate Highway 80 near and American Canyon Road Corrington said. The CHP determined she made an unsafe turning movement but does not intend to recommend any charges be filed in that incident, Corrington said.
Corrington said Migden did not make any statements at the Beck Avenue accident scene regarding medications she might have been taking and no medications were openly visible in her Highlander, Corrington said.
Berkeley City Council votes to dissolve dysfunctional Housing Authority
The Berkeley City Council has voted to dissolve the city's dysfunctional Housing Authority and bring in a new board and a new staff.
Although the council's action terminated all 22 members of the Housing Authority's staff, the 14 staff members who are permanent employees will be transferred to other city jobs, according to city of Berkeley spokeswoman Mary Kay Clunies-Ross.
The City Council's action Tuesday night comes in the wake of a report by City Attorney Manuela Albuquerque that says the Housing Authority paid rent to landlords for 15 people who were dead, failed to inspect units where substandard conditions exist and allowed ineligible family members to inherit Section 8 housing ahead of other people on the waiting list.
The report, which detailed 14 serious problems, also says the authority's staff didn't conduct mandated criminal background checks on tenants - in one case failing to detect a registered sex offender- and failed to verify that units were occupied by the people who were supposed to be living there.
A separate but related report by City Manager Phil Kamlarz says the Berkeley Housing Authority has been labeled "troubled" by the U.S. Department of Housing and Urban Development since 2002.
U.S. Coast Guard, marine biologists change tactics with stubborn humpbacks
The U.S. Coast Guard and marine biologists have changed their tactics once again in their efforts to herd two injured humpback whales that have spent nearly two weeks in the Sacramento River and delta area back to the ocean.
On Wednesday, people banging pipes together underwater aboard 19 boats were able to drive the mother whale and her calf about four miles downriver, but the animals turned around as they approached the Rio Vista Bridge, the Coast Guard reported.
Researchers and officials planned to try playing recorded sounds of killer whales, the humpback whale's natural predator, from two boats Wednesday afternoon to spur the whales back to the ocean.
Marine biologists will be monitoring the whales' behavior while the killer whale sounds are being played, the Coast Guard reported.
On Tuesday, Dr. Frances Gulland, principal veterinarian of the Marine Mammal Center, reported that the whales' wounds appeared to have worsened and that their skin had changed from smooth and shiny to irregular and pitted.
The whales' wounds are presumed to be from a run-in with a vessel.
Freshwater from the river can impede their healing process, but
assessing their health is difficult because they mask their injuries to protect themselves from predators, according to the Coast Guard.
The Coast Guard was hoping to get the whales to Antioch Wednesday where saltwater concentrations begin in the river, according to the Coast Guard.
Alameda County Sheriff's office announces prosecutors have decided not to charge their prime suspect in Jennifer Lin murder case
Just four days before the 13th anniversary of the day that 14-year-old Jennifer Lin was murdered at her Castro Valley home, the Alameda County Sheriff's office announced that prosecutors have decided not to charge the prime suspect in the case at this time.
Almost exactly a year ago, on May 25, 2006, Sheriff's officials announced that Sebastian Alexander Shaw, now 39 who is serving three life sentences in Oregon for murders and other crimes he committed there, was the sole suspect in the May 27, 1994, killing of Lin, a straight-A student and talented violist.
But Sgt. Scott Dudek said Wednesday that after several weeks of reviewing investigators' reports, the Alameda County District Attorney's "felt a jury, at this time, would not convict Shaw for the murder."
In a statement, Dudek said, "Although we were disappointed, we completely agree with their decision not to seek an arrest warrant on Shaw."
In a phone interview, District Attorney Tom Orloff said he and several other people in his office reviewed the case but they feel "there is not enough evidence to prove he (Shaw) did it."
But Orloff said Shaw is still a suspect, the investigation is still open and it's possible there will be enough evidence to charge Shaw in the future.
And because Shaw is serving three life terms, he isn't going anywhere, Orloff said.
At a news conference on May 25, 2006, Sheriff Greg Ahern said investigators have considered Shaw a person of interest since shortly after Lin was killed and came to consider him the sole suspect by early 2006.
Ahern said investigators focused on Shaw even more after he claimed in a 1998 interview with Portland, Ore., police that he killed as many as 10 to 12 people.
However, Ahern said Shaw hasn't confessed to any specific homicides, including Lin's death.
Female driver dies after being struck by debris from jackknifed big-rig
A female driver struck by debris from a jackknifed big-rig Tuesday afternoon on U.S. Highway 101 in Redwood City died later in the day after being airlifted to the hospital, California Highway Patrol spokesman Officer Eric Parsons said Wednesday.
San Mateo County Coroner Robert Foucrault identified the woman Wednesday as Indira Gagloeva, 37, of Mountain View.
Gagloeva was driving a sport utility vehicle in the fast lane of northbound U.S. Highway 101 near Woodside Road at about 1 p.m. when a big-rig on the southbound side lost control and crashed into and partially over the center divide, scattering concrete debris, according to the CHP.
Some of the concrete chunks went through Gagloeva's windshield, striking her in the head, according to Parsons. Gagloeva's 12-year-old daughter was also in the car and suffered minor injuries.
The big-rig burst into flames, closing both directions of the highway.
Gagloeva was airlifted to Stanford Medical Center. She was pronounced dead at approximately 4:30 p.m., according to the San Mateo County coroner's office.
The daughter was also hospitalized, but there was no immediate word Wednesday whether she had been released, Parsons said.
Both the truck driver and a passenger in the truck were uninjured and escaped before the truck caught fire.
Parsons said Wednesday that the CHP officer investigating the incident is still talking with witnesses to determine if there was any negligence on the part of the truck driver. With a fatality, vehicular manslaughter remains a possible charge, he said.
EU grants Napa Valley vintners status to prevent misuse of the Napa name
The European Union has formally granted Napa Valley a geographic indication status that prevents the misuse of the Napa name on wines produced in or imported to Europe.
Terry Hall, communications director for Napa Valley Vintners, called the EU's action "a landmark recognition" because it is the first time a nonmember of the union has been given geographic indication status. There had been no protocol protecting nonmembers, he said.
"It is a great victory for protecting the Napa name in Europe, a critical component of Napa Valley Vintners' ongoing efforts worldwide," Hall said Wednesday.
Napa Valley Vintners petitioned the EU for geographic indication status in Brussels last summer, Hall said.
"It's all about international trade relations and branding," Hall said.
Two winemakers, Clos du Napa in the United Kingdom and Varon du Napa in Spain, used the Napa name on their wines, Hall said. Nine other winemakers outside the EU also use the Napa name, he said.
"Hopefully that will change," he said.
Details of the EU's decision will be announced at a news conference this afternoon in San Francisco. Jean-Marc Trarieux, Agriculture Attache-First Secretary Delegation of the European Commission and members of the Napa Valley Vintners are scheduled to attend.
Copyright © 2007 by Bay City News, Inc. -- Republication, Rebroadcast or any other Reuse without the express written consent of Bay City News, Inc. is prohibited.
####