Newsom announces proposed 2007-2008 budget
Budget balloons to $6.1 billion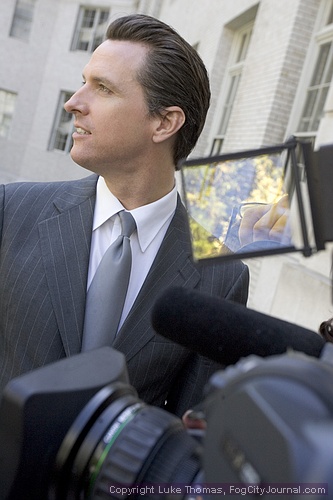 Mayor Gavin Newsom
Photo(s) by Luke Thomas
By Matt Wynkoop

June 1, 2007
San Francisco Mayor Gavin Newsom today released his proposed budget for fiscal year 2007-2008 with most of the money focused on public safety, homelessness, city streets and strengthening the transportation system.
The record $6.1 billion budget represents a 5.5 percent increase in spending from the $5.7 billion budget of fiscal year 2006-2007.
Reflecting what Newsom calls his highest priority - getting back to basics - he calls for millions to be spent on paving city streets, adding police officers, hiring San Francisco Municipal Transit Agency drivers and combating homelessness.
The budget allocates $33 million for public safety to hire 250 new police officers, as well as money to invest in new deputy district attorneys for increasing prosecutions of homicides, violent crimes, domestic abuse, break-ins and cold hit cases.
Newsom's budget would double the number of homeless outreach workers and invest $700,000 for a trial court program for addressing low-level offenses in the Tenderloin neighborhood.
With $36.4 million allocated for street repair programs, the budget invests $5.4 million more for street paving than last year, which Newsom claimed would meet the city's entire repaving needs.
The budget also proposes money for 135 new Muni operator positions and an increase of 86 new hybrid buses, as well as a $10 million for customer service improvements that includes money for a new 311 hotline.
More than $217 million is proposed for more than 9,000 permanent and affordable housing developments. The $217 million includes $79 million for homeless and permanent supportive housing, with an additional $5 million for rebuilding public housing.
"This budget makes careful, balanced choices to invest in our city's basic needs and infrastructure while supporting our residents with critical services and housing,'' Newsom said today.
The San Francisco Board of Supervisors is expected to vote on the proposed budget by early August. The mayor generally signs the budget into law by mid-August.
Copyright © 2007 by Bay City News, Inc. -- Republication, Rebroadcast or any other Reuse without the express written consent of Bay City News, Inc. is prohibited.
####