Newsom signs anti-gun laws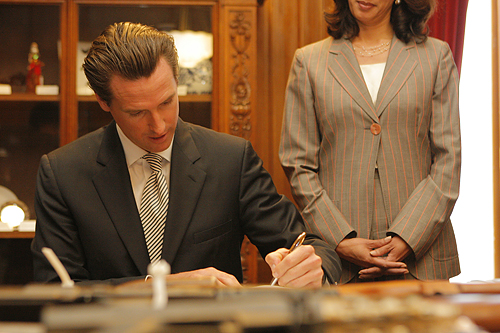 Mayor Gavin Newsom
Photos by John Han
By Laura Dudnick
August 1, 2007
San Francisco Mayor Gavin Newsom signed anti-gun legislation today in an effort to reduce the city's illegal gun activity.
The three pieces of legislation prohibit the possession or sale of firearms on city property, require firearms in residences to be in a locked container or have trigger locks and require firearm dealers to submit an inventory to the chief of police every six months.
"(This legislation) reinforces that San Francisco is not a friendly place for the distribution or sale of firearms," Newsom said. "San Francisco now has the strictest anti-gun laws in the county."
District Attorney Kamala Harris, who helped write the anti-gun legislation, said San Francisco has experienced a surge in gun-related violence in the past few years.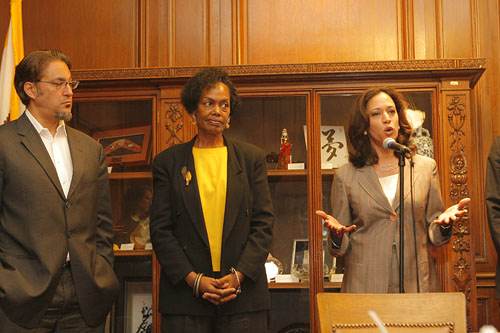 District Attorney Kamala Harris (right) with Supervisors Ross Mirkarimi (left)
and Sophie Maxwell (center).
From 2001 and 2006, homicides involving a gun have increased from 60 to 85 percent, according to Harris.
However, Alan Gottlieb, founder of the Second Amendment Foundation, said guns can be used for good as well as evil.
"Everybody has a right to self-defense," Gottlieb said. "The mayor is basically denying people the right of self-defense."
Newsom said that while the legislation is a step towards managing illegal gun use, there is no way to concretely know if the number of illegal guns in the city decreases as a result of the new laws.
Newsom signed the anti-gun legislation on the same table where 20 of the 119 guns obtained at the city's first gun buy-back event were displayed.
The "Gift for Guns" program invited people to turn in operable firearms with no questions asked in exchange for gift cards between $100 and $200.
The Mayor's Office of Criminal Justice and the San Francisco Police Department hosted the gun buy-back event Saturday.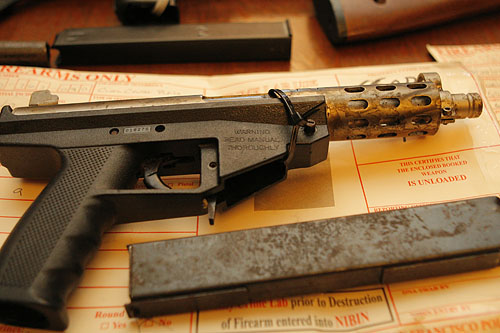 Copyright © 2007 by Bay City News, Inc. -- Republication, Rebroadcast or any other Reuse without the express written consent of Bay City News, Inc. is prohibited.
####