Newsom lauds efforts to end homelessness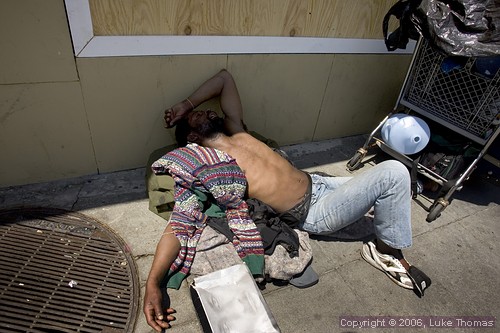 Photo(s) by Luke Thomas
By Brent Begin, Bay City News Service

December16, 2006
SAN FRANCISCO (BCN) - With the city's homeless population shrinking, according to numbers recently released from the mayor's office, San Francisco Mayor Gavin Newsom is vowing to do more.
As the number of individual homeless who have found housing complete with social services has increased, the mayor now plans to concentrate on getting families and seniors off the street.
He cited an emphasis on providing permanent supportive housing as the major reason for San Francisco going from "once being identified as having the most pervasive homeless problem in the country to being a role model."
"Soup kitchens solve hunger, shelters solve sleep, permanent supportive housing solves homelessness, and it is a solution that is working," Newsom said. "Permanent supportive housing is the cornerstone of our strategy to end homelessness in San Francisco."
According to the mayor's numbers, 1,798 units of housing have been added in the city since 2004, making the total number of units 3,182. Within the next few years, over 1,000 more units are slated for construction.
The mayor also announced Thursday that 87 percent of those who were receiving cash welfare payments in 2004 are no longer claiming the benefits.
This year, Newsom said he has allocated $3 million to assist families on the verge of eviction and that he will develop 138 new units of housing especially for chronically homeless families.
On top of placing those who are down on their luck in housing, the city has also succeeded in reuniting 1,788 individuals with friends and family across the country at an average cost of $147 per client.
The programs are all part of the mayor's 10 year plan that began in 2004 with the appointment of former supervisor Angela Alioto to spearhead a campaign to get the city's chronic homeless off the streets and off welfare payments.
According to Newsom, his "care not cash" system is way ahead of schedule.
Copyright © 2006 by Bay City News, Inc. -- Republication, Rebroadcast or any other Reuse without the express written consent of Bay City News, Inc. is prohibited.

####