Herrera calls for restraining order
against Newsom stalker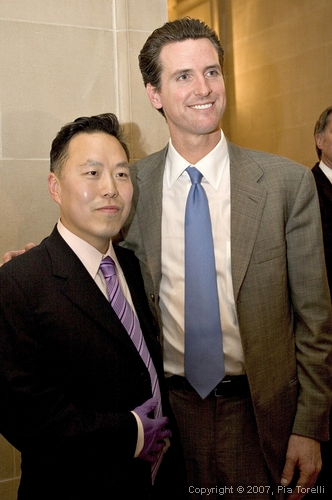 Han Shin with Mayor Gavin Newsom, 2/12/7
Photo by Pia Torelli, World Picture Network, special to Fog City Journal
By Brent Begin, Bay City News Service

February 28, 2007
SAN FRANCISCO (BCN) - A Union City man accused of stalking San Francisco Mayor Gavin Newsom will find out in just over a week if a judge will grant a restraining order against him.
According to a complaint filed by the city attorney's office, Han Shin, 42, has had several brushes with Newsom, including some uncomfortable run-ins at City Hall, another incident at a town hall meeting in the Bayview district, and even a close call inside Newsom's apartment building.
The complaint includes sworn depositions from a doorman at Newsom's building, police Inspector James Ramsey, and Newsom's personal bodyguard, Officer Franco Fleming.
In one case, Shin is accused of wearing purple latex gloves and snapping photos of Newsom from the waste down. In another accusation, Shin is accused of sneaking into Newsom's Russian Hill apartment building, only to be escorted out by a doorman.
Shin, the author of three inspirational books, describes himself on Amazon.com as a native of Seoul, Korea who came to the U.S. at the age of 9 years old. After graduating as valedictorian from James Logan High School in Union City and attending University of California, Berkeley as a business student, Shin "had a mystical experience which left him to pursue a spiritual journey towards Enlightenment."
City Attorney's spokesman Matt Dorsey said threats like this are not entirely uncommon among city employees. He said that workers from psychologists on the city payroll to high profile politicians are often confronted by threatening people.
"We take potential threats to the safety of city officials and employees very seriously," said Dorsey.
The current temporary restraining order has been in place since Wednesday. On March 7, the case is scheduled to go before a judge in department 218 of the Civic Center Courthouse at 9 a.m.
Copyright © 2007 by Bay City News, Inc. -- Republication, Rebroadcast or any other Reuse without the express written consent of Bay City News, Inc. is prohibited.
####