Newsom foot patrol veto stuns San Francisco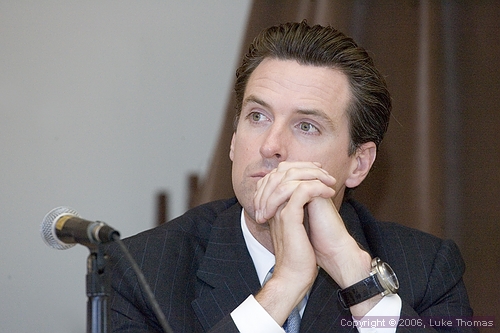 Mayor Gavin Newsom.
File photo: Anti-Gang Summit, 10/23/6.
Photo(s) by Luke Thomas
By Brent Begin, Bay City News Service
November 3, 2006
SAN FRANCISCO (BCN) - Mayor Gavin Newsom stunned San Francisco with a late Friday announcement of his veto of legislation that would have mandated police foot patrols in neighborhoods most impacted by violent crime, calling the plan a move by politicians to set public safety policy.
Newsom, along with police Chief Heather Fong, followed up the veto with their own plan to put an additional 44 officers on walking beats by the end of the year.
But Supervisor Ross Mirkarimi, who drafted the plan months ago, said in a telephone interview today that the mayor's veto was purely a political move.
"I think it's completely shameful," Mirkarimi said. "I think the mayor is putting vanity before public safety. Its immensely disingenuous."
Newsom justified the veto by writing, "I have concluded that this legislation is the wrong approach to an issue on which there is wide agreement and actually may threaten public safety."
He added that "it is very dangerous for the Board of Supervisors to dictate where police officers or for that matter firefighters are deployed."
Mirkarimi said he wholeheartedly agreed with the mayor's statement that politicians should not become involved in police policy, but he said that after working with Fong and Newsom for about seven months on instituting foot patrols, nothing was happening.
"I never disagreed with the mayor and police chief," said Mirkarimi, who first brought up the foot patrol program to the city's police commission over the summer. "I gave them well over seven months to do something about it. In fact, they never thought I would get this far."
But Newsom said today in a statement that the Police Department has steadily staffed 23 administrative positions with civilians, which allows for the reassignment of officers to neighborhoods.
He also said police already maintain scores of active foot patrols throughout the city, most recently averaging 310 officers assigned per week in 2005.
Fong has objected to the Board of Supervisors resolution on the grounds that the department is understaffed by almost 300 officers.
"Mayor Newsom has long recognized that foot patrols staffed by police officers play an important role with enhancing public safety," Fong said in a statement.
Supervisors originally voted 8-3 in favor of the legislation with Supervisors Peskin, Elsbernd and Alioto-Pier dissenting. On the second reading, Supervisor McGoldrick was absent from the 7-3 vote.
Newsom needs one supervisor to switch their vote against the legislation for the veto to be sustained.
Full text of Newsom veto letter, click here.
Luke Thomas contributed to this report.
Copyright © 2006 by Bay City News, Inc. -- Republication, Rebroadcast or any other Reuse without the express written consent of Bay City News, Inc. is prohibited.
####