Newsom issues directive to combat summer violence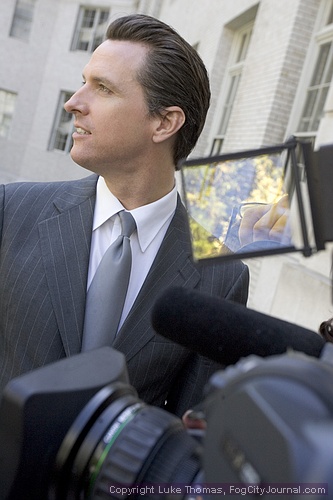 Mayor Gavin Newsom
Photo(s) by Luke Thomas
By Tamara Barak

June 27, 2007
Responding to a recent surge in violence, San Francisco Mayor Gavin Newsom issued an executive directive yesterday to step up enforcement and social services this summer in the city's most crime-plagued areas.
The order calls for police to enhance their patrol strategies for violence "hot spots" and establishes a Summer Street Violence Prevention Council that will step up outreach to problem areas.
"Gun violence that is occurring in San Francisco neighborhoods is unacceptable and intolerable for our city's residents," Newsom wrote in the directive. Summer is typically a time when violence spikes, he noted.
The directive orders the San Francisco Police Department to immediately enhance all available resources to areas of the Bayview, Mission, Tenderloin and Western Addition neighborhoods where violence is anticipated.
It also directs the department to include in its strategy increased foot patrols, stepped up presence of uniformed officers in troubled areas, and improved coordination with the probation department and the San Francisco District Attorney's Office.
The Summer Street Violence Council will be co-chaired by the mayor's deputy chief of staff for public safety and director of the mayor's office of criminal justice. Its membership will be composed of representatives from both law enforcement and various city departments, including public health, recreation, workforce development, communities of opportunities and neighborhood services.
The council will begin meeting immediately and continue to meet until Sept. 15.
Copyright © 2007 by Bay City News, Inc. -- Republication, Rebroadcast or any other Reuse without the express written consent of Bay City News, Inc. is prohibited.
####