Bill Clinton urges action
on childhood obesity epidemic

President Bill Clinton urges participants at the 67th annual National School Board Association conference, held in San Francisco, to take responsibility to act against the childhood obesity "epidemic" sweeping across the United States and the world.
Photo(s) by Luke Thomas
By Ari Burack, Bay City News Service

April 15, 2007
SAN FRANCISCO (BCN) - Former President Bill Clinton told a packed audience of educators and school administrators today in San Francisco that a rising tide of childhood obesity is setting the stage for "a calamitous crisis in health" in the United States and around the world.
Addressing the annual conference of the National School Boards Association at Moscone Center, Clinton said "a confluence of factors that have to do with how we work and live and raise our children" are now threatening the nation's health care system and endangering the lives of children.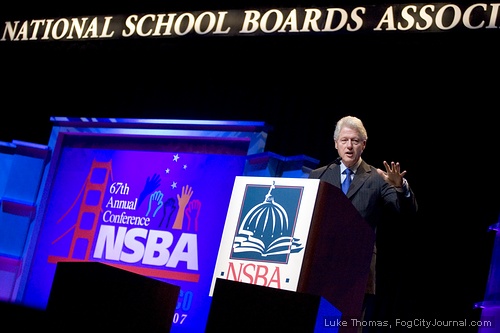 Less exercise and poor eating and drinking habits among schoolchildren, in combination with rising costs to middle-class families, less time to prepare healthy food at home and nutrition and physical education program cutbacks due to budget pressures on schools, have contributed to the estimated 12.5 million children in America who are considered overweight today, Clinton said.
Clinton added that researchers are now seeing a significant number of schoolchildren, some as young as 9 years old, with Type 2 diabetes, also known as adult-onset diabetes. He warned that heart attacks, strokes, blindness and amputations could also rise as a result. An already overburdened health care system will be unequipped to handle diseases and other health issues brought on by obesity, according to Clinton.
"We cannot allow this to happen," he declared.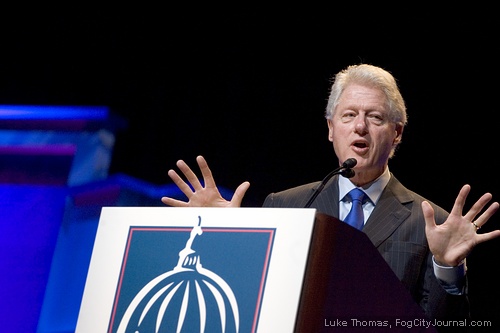 Clinton said he has partnered with the American Heart Association to counter childhood obesity and diabetes through promoting nutrition education in schools, working with food suppliers for healthier snack and drink alternatives in schools, and setting up more recreational facilities for schoolchildren.
Clinton then recalled how as a youth, he had been overweight and later on in life, suffered heart trouble. Now, at age 60, Clinton said he feels as healthy as ever.
"After I had my heart surgery, I started thinking about health care all over again," Clinton said. "Every day for me is a gift," he added.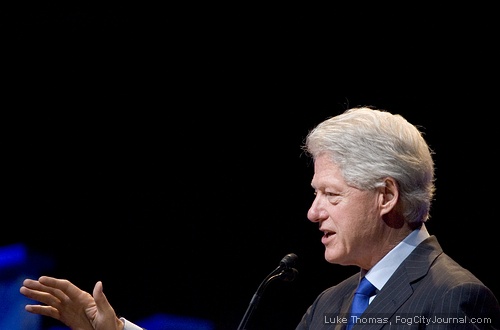 Copyright © 2007 by Bay City News, Inc. -- Republication, Rebroadcast or any other Reuse without the express written consent of Bay City News, Inc. is prohibited.
####