Rollins assassination kills Oakdale Mob murder trial
Harris: "There's a killer out there"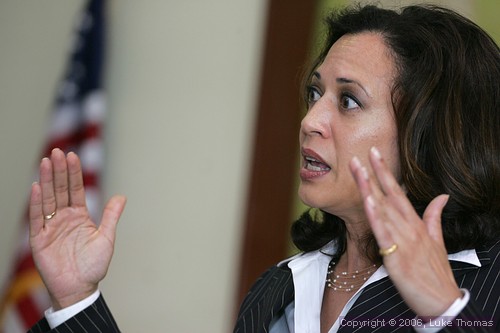 District Attorney Kamala Harris. File photo.
Photo(s) by Luke Thomas
By Brent Begin, Bay City News Service
November 3, 2006
SAN FRANCISCO (BCN) - At least one of two alleged Oakdale Mob members who were indicted in the murder of a 20-year-old man will soon be free because the key witness in their trials was later murdered.
San Francisco Superior Court Judge Kay Tsenin told prosecutors today that the case could not go forward because Terrell Rollins, the sole eyewitness to the murder, was himself gunned down on the morning of May 4 after he left witness protection and visited a Bayview district auto body shop.
District Attorney Kamala Harris said today that she is "frustrated'' with the many problems facing her office when it comes to prosecuting homicide cases -- witness intimidation being one of the largest obstacles.
"There's a killer out there and we can't prosecute the case,'' Harris said.
Rollins, 22 at the time, entered into the district attorney's witness protection program after witnessing the murder of Arkeylius Collins, 20, on Sept. 19, 2005.
Rollins then testified before a grand jury and in March, Harris announced the murder indictment of two alleged members of the street gang known as the Oakdale Mob, Daniel "Dango'' Dennard and Deonte Bennett, both 21 at the time.
Today the court dismissed the case, citing a recent U.S. Supreme Court decision barring the use of witness testimony that hasn't been subjected to cross-examination.
Bennett is expected to go free. Dennard is being held on charges of carjacking, kidnapping and gang charges which could land him a life sentence.
"That witness is a hero and should be treated like a hero,'' said Harris, who added that blame should not be placed on the court for the dismissal of the case.
According to city attorney's office spokesman Matt Dorsey, both Dennard and Bennett are listed on a temporary restraining order his office recently filed in civil court against members of the Oakdale Mob.
The restraining order prohibits members of the gang from gathering in a four-block area around the Oakdale housing development, which is described as Oakdale Mob turf.
Copyright © 2006 by Bay City News, Inc. -- Republication, Rebroadcast or any other Reuse without the express written consent of Bay City News, Inc. is prohibited.
####