City crafting plan to curb violence
Mentoring and employment assistance central to program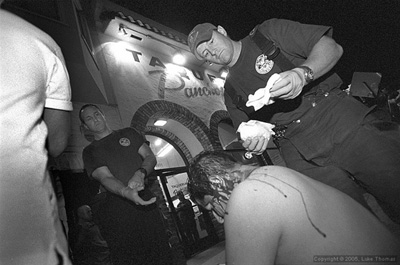 Photo by Luke Thomas
By Bay City News
August 13, 2007
Community advocates and city officials are crafting a plan that would send workers into the streets of Oakland to provide employment and mentoring assistance to those caught up in cycles of violence.
Based on models in Chicago and Boston, various groups like the Oakland Community Organization are working on the project with city officials to quell crime in Oakland, where there has been about 80 homicides so far this year.
The program targets people between the ages of 18 and 35 and focuses on prevention, intervention and enforcement. Program officials will try to place people in jobs and then monitor their success.
"Street outreach workers have the ability to deliver on commitments to provide employment for people caught up in cycles of violence and homicide," said Ron Snyder, Oakland Community Organization's executive director.
The Oakland Community Organization started working on the program in October. Then community members met in February, April and May to discuss the program, Snyder said. In June, the mayor's office and other potential project partners examined the idea, Snyder said.
It is not known how much the program will cost, where the money will come from or when it will become a reality, but given a recent spike in violence, the pressure is on.
"There is some urgency around this," Snyder said.
A 23-year-old Pittsburg man is the latest shooting victim. He died Sunday afternoon after being shot hours before.
That fatal shooting came on the heels of a recent wave of violence that left numerous people dead including veteran journalist Chauncey Bailey.
The deployment of people to the streets is one of many programs city officials and community groups are working on.
California Highway Patrol officers who were deployed Saturday to patrol the streets at night are expected to be there at least six weeks, Officer Joe Frazier said today.
The community programs coupled with the added officer presence will make a difference, according to community leaders.
"I think it will absolutely help," said Bill Heiser, program associate for Urban Strategies Council, an organization in Oakland that focuses on community development.
Copyright © 2007 by Bay City News, Inc. -- Republication, Rebroadcast or any other Reuse without the express written consent of Bay City News, Inc. is prohibited.
####