San Francisco Police Commission upset
with Office of Citizen Complaints audit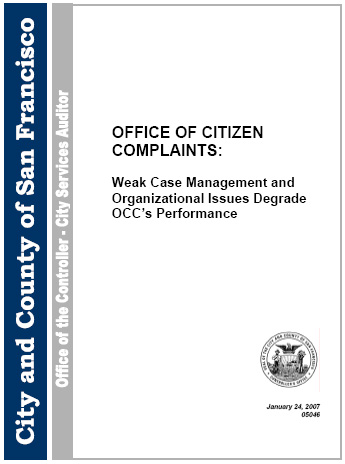 Full report, click here.
By Brent Begin, Bay City News Service

January 24, 2007
SAN FRANCISCO (BCN) - Police commissioners expressed their disappointment and a need for further investigation tonight after getting their first look at an unflattering audit report of San Francisco's Office of Citizen Complaints.
"This is really sad," said Commissioner Joe Marshall in regards to a 45-page document that faults the complaint office for poor management and organizational issues.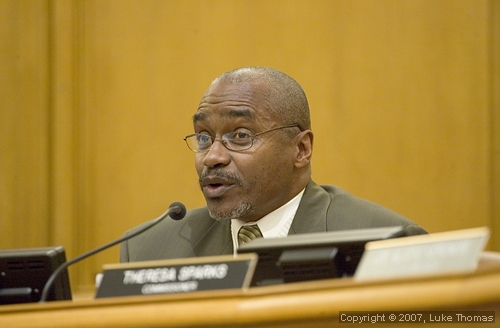 Police Commissioner Joe Marshall
Photo(s) by Luke Thomas
"The system didn't work, and everybody should be upset about that," Marshall added.
This is the first audit of the Office of Citizen Complaints, or OCC, which has been responsible for recording complaints of police misconduct since its inception in 1982, in over 20 years.
During the time span covered in the audit, the San Francisco Controller's Office found that the OCC failed to bring closure to 40 percent of the 286 cases received for review. Complaints currently have only a year to be filed before they expire.
Auditor Joanne Held, who presented the findings tonight, said she found that a majority of those cases were late because investigators, two in particular, let complaints sit on their desk for up to 30 days after receiving them, and that management failed to discipline those with substandard performance.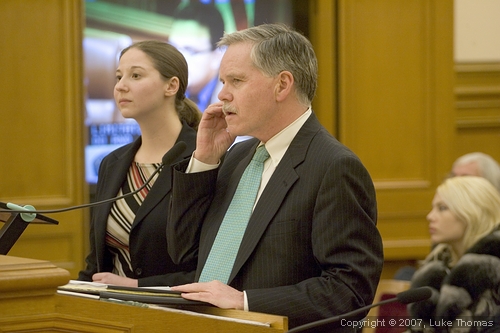 Joanne Held (left) with Controller Ed Harrington
Some of the findings were so egregious that commissioners called for the termination of investigators within the OCC. Commission President Louise Renne also called on the city attorney to investigate claims of falsifying time cards, using city cars on personal business, abusing resources, harassment and using inappropriate language.
"There's nobody that can sit in an office and do nothing," Renne said. "There's nobody who can fail to come in to an office that should rest easy that nothing can be done. Just because it hasn't been done in the past, doesn't mean it can't be done in the future... When people aren't doing their job, it's the public that suffers."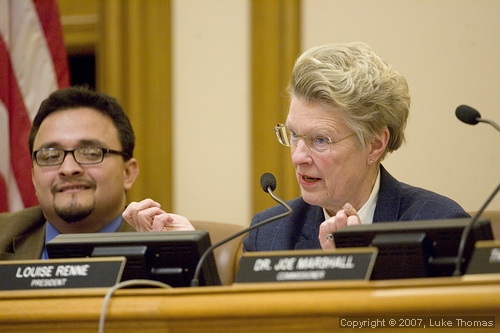 Commission President Louise Renne
Kevin Allen, who recently announced his resignation as director of the OCC, stood before the commissioners and accepted responsibility for much of the criticism.
"I am responsible for the deficiency in the performance of the agency, so I'm not here to offer excuses or apologies," said Allen, who added that the audit provides a great starting point for improvement.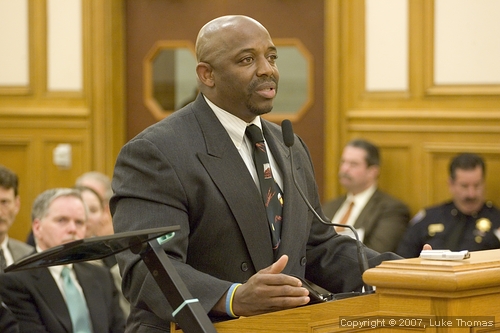 OCC Director Kevin Allen
He did add, however, that the police commission should take a more active role in the management of the police oversight office.
"Walk the floors. Talk to the people," Allen told the commission.
"That goes a long way, because while I am the director, you are ultimately the bosses. You are ultimately the people... that have control."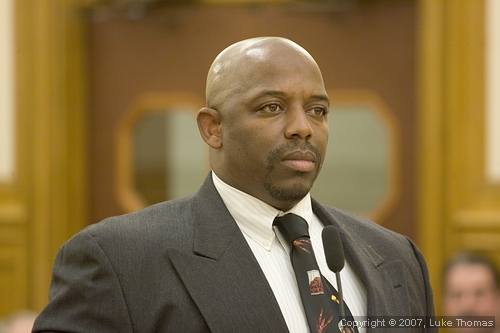 Commissioner Joe Veronese said the audit would be very helpful when the commission id interviewing future candidates for the director position.
"I would like to see... an OCC director that goes in there and essentially cleans house, that will confront the people and say nobody's job in this unit is safe if you are incompetent," Veronese said.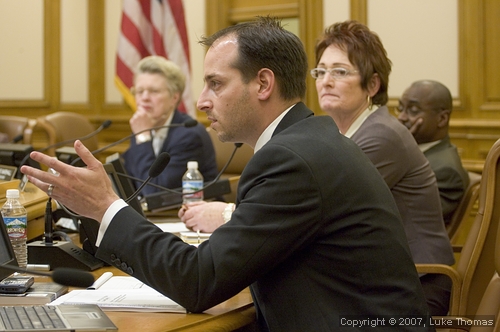 Commissioner Joe Veronese
Police Chief Heather Fong responded to some of the 45 recommendations provided by the controller's office.
In response to a recommendation that the department comply with the OCC's requests for evidence and documents, Fong wrote, "The Police Department agrees with (the) recommendation. The Police Department, however, also notes that some OCC information requests have been unclear, vague, improper, or untimely. Additionally, in some matters, the Police Department is precluded by law from providing information."
Allen said earlier today that he hoped the recommendations will be implemented in the coming years and he said that if he were to stay on as the director, he would concentrate on several key areas.
"I would look into case management, the tracking, making the process of the investigation easier for the investigators, consistency and accountability, retraining managers, which is always a sore spot for many organizations," he said.
As for disciplining poor performance, Allen said he "tried to use gentler, kinder approaches," and that his replacement will more than likely take a different approach.
Commissioners said they make improving the OCC a priority by making these findings a regular calendar item. The audit may also play a part in a budget request required for submission by the end of February.
Copyright © 2007 by Bay City News, Inc. -- Republication, Rebroadcast or any other Reuse without the express written consent of Bay City News, Inc. is prohibited.

####