Speaker Pelosi calls new federal building
model for the country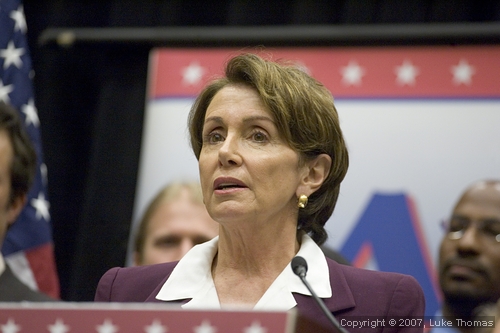 Speaker Nancy Pelosi
Photo(s) by Luke Thomas
By Julia Cheever
July 10, 2007
House Speaker Nancy Pelosi today called San Francisco's newest federal building "a model for the rest of the country" at a ribbon-cutting ceremony for the $144 million edifice.
Congresswoman Pelosi, D-San Francisco, spoke along with federal and local officials including Mayor Gavin Newsom at the official dedication of the 18-story building at 90 Seventh St. between Mission and Market streets.
The building houses about 1,500 workers in regional offices of agencies including the U.S. departments of labor, agricultural and health and human services and the Social Security Administration.
Pelosi, who said she had been working on getting the building built during her entire 20 years in Congress, said the building is a "triumph of social responsibility" because it saves energy by using natural light and natural ventilation as much as possible.
The energy use is 50 percent below the target for new federal buildings, Pelosi said.
The building is also aimed at promoting workers' health. Among other techniques, it has skip-stop elevators that stop only on every third floor, so that employees have to climb stairs.
Thom Mayne, the building's architect, said during the dedication that federal officials figured out that the stair-walking exercise should extend the average user's life span by seven days and six hours.
Employees who don't want to walk up stairs can use disability-accessible elevators that stop on every floor.
The slender building is 240 feet tall but only 65 feet wide, enabling workers on each floor to see city views to both the north and the south. Most employees work in low-walled cubicles along the windows, while managers have offices in so-called "cabins" in the center of each floor.
The building project was run by the U.S. General Services Administration, which manages federal facilities and property.
GSA spokeswoman Gene Gibson said that workers began moving in April and that almost all of the 1,500 occupants are now in place.
The tenant agencies previously occupied leased space in various locations in the city.
The new building, known for the time being as the San Francisco Federal Building, is one of two large U.S. office buildings in the city. The other is the 20-story Philip Burton Federal Building, named after the late Democratic congressman, at 450 Golden Gate Ave., which houses federal trial courts and several other U.S. agencies.
Gibson said the new building could eventually be named after a person, but that will be up to Congress and the presidential administration.
The dedication took place on the building's large open plaza.
Pelosi's speech was intermittently punctuated with calls of "Impeach now!" by a small group of anti-Bush demonstrators on the sidewalk outside the plaza.
Copyright © 2007 by Bay City News, Inc. -- Republication, Rebroadcast or any other Reuse without the express written consent of Bay City News, Inc. is prohibited.
####