Pelosi defends trip to Middle East,
blasts Bush administration's "poverty of ideas"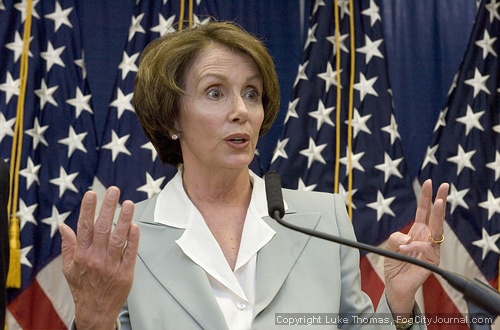 Speaker Nancy Pelosi held a press conference Tuesday at the Philip Burton federal building in San Francisco to discuss her recent trip to the Middle East. Pelosi has come under fire from Republicans who have accused Pelosi of upstaging President Bush.
Photo(s) by Luke Thomas .
By Julia Cheever, Bay City News Service

April 10, 2007
SAN FRANCISCO (BCN) - House Speaker Nancy Pelosi said in San Francisco today that "there was no difference between the message the President is setting forth and the message of our group" during her recent visit to Syria.
Pelosi said at a news conference at the Federal Building, "We left our differences at home. We are unified as a country."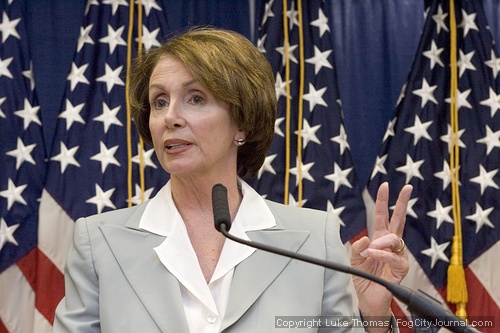 The congresswoman, a San Francisco Democrat, led a congressional delegation of four Democratic committee chairmen, another Democrat who is the House's only Muslim. and one Republican on a trip to the Middle East last week.
The group visited Israel, Lebanon, the Palestinian territories, Syria and Saudi Arabia.
Pelosi was criticized by some Republicans for allegedly giving Syrian President Bashar al Assad a message that differed from President Bush's position when she discussed an overture by Israeli Prime Minister Ehud Olmert for a possible resumption of peace talks.
But the speaker said, "Our message to President Assad was a very direct one and was very consistent with President Bush's message."
She said the group made clear that peace talks with Syria can't begin until that country openly takes steps to stop supporting terrorism.
One of Pelosi's critics was Vice President Dick Cheney, who accused Pelosi of "bad behavior" in her message to Assad.
Asked about that comment, Pelosi said, "I think it's an indication of the poverty of ideas of this administration to bring peace to the region."
Another delegation member, Rep. Tom Lantos, D-San Mateo, noted at the news conference that three Republican congressmen visited the Syrian president three days before Pelosi's delegation.
Lantos said of the criticism of Pelosi, "I do not know whether it is more pathetic or more hypocritical."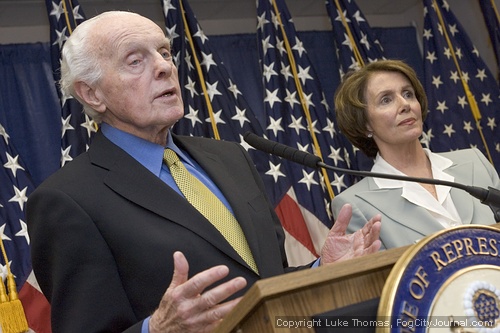 Rep. Tom Lantos
Lantos, who chairs the House Foreign Affairs Committee, called the trip "a magnificent visit" by a "well-balanced delegation."
Pelosi was asked about comments in which President Bush today invited her and Senate Majority Leader Harry Reid, D-Nevada, to discuss a war spending bill in which Congress is seeking to impose timetables for troop withdrawals from Iraq. Bush has threatened to veto such a bill.
Pelosi said she and Reid were willing to talk to Bush, but not if the condition is that there can be no serious negotiations.
"The president wants a blank check and the Democrats don't want to give it to him," she said.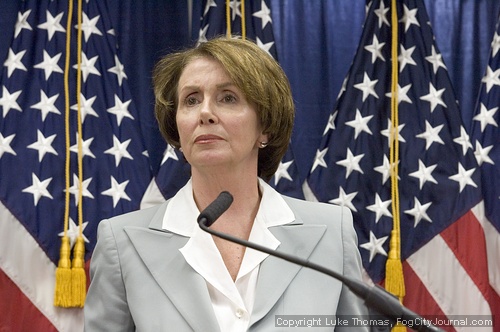 Pelosi asserted, "The American people have lost faith in President Bush's conduct of this war."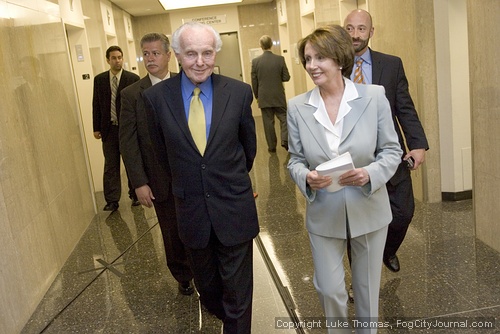 Copyright © 2007 by Bay City News, Inc. -- Republication, Rebroadcast or any other Reuse without the express written consent of Bay City News, Inc. is prohibited.
####