Plans approved to reduce petroleum flaring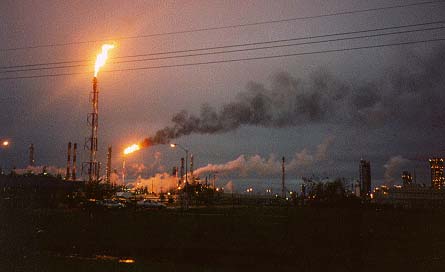 Photo courtesy EPA.gov
By Mike Aldux

July 23, 2007
Plans to improve air quality around five Bay Area petroleum refineries were approved Friday by the Bay Area Air Quality Management District.
Local refineries recently submitted proposals that aim to reduce emissions by minimizing the frequency and magnitude of flaring. Refinery flares are safety devices used to prevent worker injury or plant hazard, the Air District said.
The Air District wants flaring to be used only in emergency situations, as dictated in a rule adopted in July of 2005.
As part of the rule, local petroleum refineries are prohibited from non-emergency use of a refinery flare unless the use is consistent with a flare minimization plan, according to the Air District.
The Air District's rule requires refineries to identify and implement all feasible prevention measures to further minimize flaring, and therefore emissions.
"This effort has been many years in the making and has already yielded positive results," said Jack P. Broadbent, Air District executive officer. "Over time, this regulation will continue to further improve air quality in the communities nearest the refineries and throughout our region."
The rule is the first of its kind, the Air District said. Examples of prevention measures include the installation of additional flare gas recovery compressors and balancing refinery operations to prevent flaring.
With the rule, the prevention measures in the plans are enforceable regulatory requirements, the Air District said.
Copyright © 2007 by Bay City News, Inc. -- Republication, Rebroadcast or any other Reuse without the express written consent of Bay City News, Inc. is prohibited.
####