PG&E breaks ground on new Antioch power plant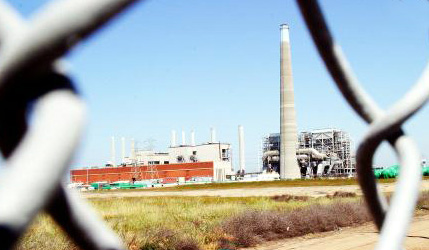 Photo courtesy InsideBayArea.com
By Caitilin McAdoo, Bay City News Service

January 25, 2007
Pacific Gas and Electric Co. broke ground Wednesday on a new, environmentally friendly power plant that will be built within the existing, partially completed Mirant Corp. power generating facility near Antioch.
The project, which is expected to cost an estimated $370 million -- in addition to what Mirant put into it to begin construction -- will provide enough electricity for 400,000 Northern and Central California customers by 2009, according to PG&E.
PG&E obtained the partially constructed power plant in a 2005 settlement agreement with Mirant, which had been accused of price gouging and market manipulation during the state's 2000-01 energy crisis. PG&E also had claimed Mirant violated a reliability contract, which led to the agreement that PG&E would complete and run the plant near Antioch then known as Contra Costa Unit 8.
PG&E has since upgraded the plant to a more energy-efficient and cleaner design and has changed the name of the facility to Gateway, PG&E reported.
The Gateway facility is designed to use 97 percent less water and produce 96 percent less discharge than conventional water-cooling systems, PG&E reported.
The facility also will use clean-burning natural gas turbines to generate power, which makes the plant more energy efficient. According to PG&E, the plant will generate 35 percent less carbon dioxide for every megawatt of power produced than older plants would.
Once completed, PG&E will employ 23 to 25 full-time employees and will pay about $1.5 million annually in property taxes to Contra Costa County.
During peak construction, PG&E expects to employ an estimated 400 workers to build the plant.
PG&E received approval from the California Public Utilities Commission in June 2006 to complete construction and to operate the facility, but is still waiting for approval of some design changes, including the so-called dry cooling system that will reduce use of water, from the California Public Utilities Commission and the California Energy Commission.
Copyright © 2007 by Bay City News, Inc. -- Republication, Rebroadcast or any other Reuse without the express written consent of Bay City News, Inc. is prohibited.

####