San Francisco leads nation
with ban of non-biodegradable plastic bags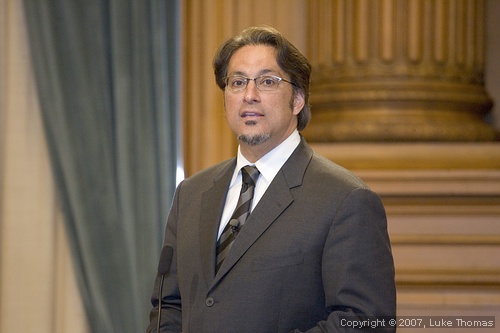 Supervisor Ross Mirkarimi sponsored legislation requiring large supermarkets
and pharmacies in the city and county of San Francisco to replace
non-biodegradable plastic bags with reusable or recyclable bags.
The legislation was passed by Supervisors today (10-1) with Supervisor Ed Jew dissenting.
Photo(s) by Luke Thomas
By Tamara Barak and Bridgid Gaffikin, Bay City News Service

March 27, 2007
SAN FRANCISCO (BCN) - San Francisco's Board of Supervisors this afternoon passed an ordinance requiring large supermarkets and pharmacies in the city to replace non biodegradable plastic bags with reusable or recyclable bags.
The legislation, which was passed 10-1, makes San Francisco the first city in the U.S. to introduce such a ban, said Supervisor Ross Mirkarimi, who sponsored the original version of the ordinance.
"Instead of waiting for the federal government to do something about this country's oil dependence, environmental degradation or contribution to global warming, local governments can step up and do their part. The plastic bag ban is one small part of that," Mirkarimi said.
Ed Jew was the only supervisor to oppose the ban.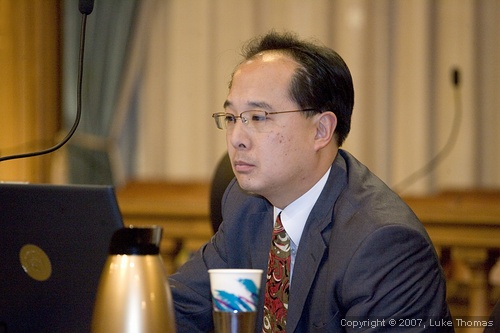 Supervisor Ed Jew
The ban applies to large pharmacies and 54 grocery stores in the city with annual retail sales of more than $2 million. Retailers will be permitted to use any combination of biodegradable plastic, paper and recycled bags.
Grocery stores will have six months to comply with the new requirement and pharmacies will have 12 months.
The ordinance originally addressed just the 54 largest grocery outlets in the city but was amended to add large pharmacies.
Both types of businesses are the focus of the ordinance because they give out more bags each year than any other retailer, according to Mirkarimi.
The California Grocers' Association opposed the ordinance, arguing that consumers would be confused by the different types of plastic bag they receive. People would unintentionally try to recycle both compostable and regular plastic bags, the association argued, resulting in the pollution of what plastic the city does recycle.
The association has argued that because of the risk that recyclable plastic originating in San Francisco could be contaminated, the city might be faced with having to dispose of plastic waste rather than even try to recycle it.
President Peter Larkin said in a statement, "Singling out one segment of the retail stores and mandating the use of one type of bag is not the solution to a more global issue," he said. "It simply trades one environmental concern for others and pits one type of store against another."
Mirkarimi today said the grocery industry is afraid other cities will follow San Francisco's example.
"They're afraid of the domino effect, that this will transcend beyond San Francisco. And we hope it does," he said. Grocery industry leaders "used San Francisco as their beachhead. And they lost."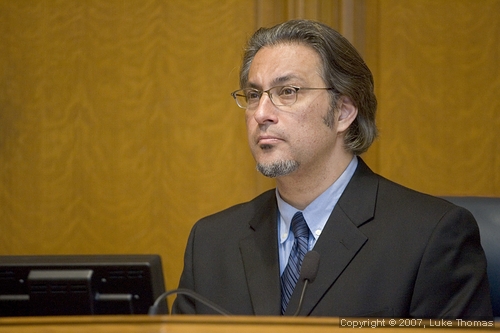 The fines for breaking the new law are the same as those imposed in a recent ban on Styrofoam by city food vendors, which will come into effect June 1 -- $100 for the first violation, $200 for the second and $500 for a third violation within the same year. If violations were to continue, the city attorney could seek a legal injunction against a retailer.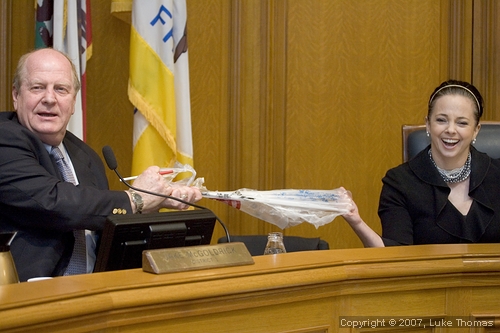 Supervisors Jake McGoldrick and Michela Alioto-Pier, 3/8/7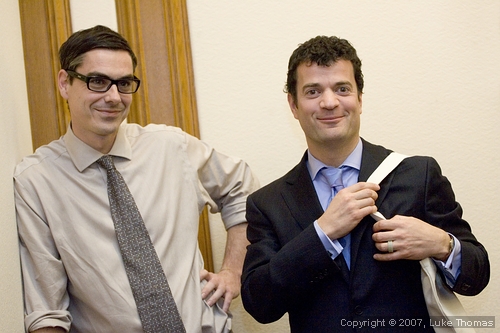 San Francisco Environment Director Jared Blumenfeld (right) dons a canvass shopping bag at a committee hearing on March 8 with Supervisor Mirkarimi aide, Boris Delepine, at his side.
Copyright © 2007 by Bay City News, Inc. -- Republication, Rebroadcast or any other Reuse without the express written consent of Bay City News, Inc. is prohibited.
####