San Francisco Police Commission to vote
on 22 new crime cameras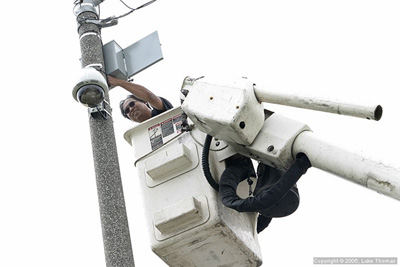 Photo(s) by Luke Thomas
By Brent Begin, Bay City News Service
November 15, 2006
SAN FRANCISCO (BCN) - The mayor's plan to install 22 new cameras in high crime areas of San Francisco is scheduled to go before the police commission tonight for approval, but not everyone is supporting the popular proposal.
The American Civil Liberties Union opposes the installation of the cameras because the group claims they would lead to an Orwellian invasion of privacy without actually deterring crime.
In a letter to the police commission, the ACLU wrote, "We fully understand and appreciate the need to respond to the very real and significant crime problem, but video surveillance is not the answer. While at first glance video surveillance may appear to be an easy and intuitive way to deter and decrease crime, the reality is that study after study demonstrates that cameras neither impact crime or fear of (retribution)."
The letter goes on to suggest spending the money on other, more effective, means of combating crime such as improved foot patrols, community policing and improved lighting conditions.
But police, who are generally in favor of the cameras, have been calling on community members to come to tonight's meeting in support. Capt. Albert Pardini of Bayview station wrote in a community bulletin, "These safety cameras have become an important component of ensuring public safety in the areas that suffer from violent crime."
Pardini also called on residents of his community, where a camera at Third Street and Newcomb Avenue is planned, to write to the commission.
Another 28 cameras, between $4,000 and $7,000 each, are expected to be installed within the next year. Thirty-three cameras are already in use, according to Mayor Gavin Newsom who unveiled the plan in September.
So far, at least one camera has helped capture a man suspected of shooting a 13-year old girl in the leg in front of the Alemany housing development.
The next 22 cameras are slated to be installed at 16th and Mission streets, 24th and Mission streets, Geneva Avenue and Mission Street, Turk and Taylor streets, Ellis and Jones streets and at 1050 McAllister St.
Tonight's meeting begins with a closed session at 4:30 p.m. The meeting is expected to open to the public at 6 p.m. when the camera installation hearing will begin.
Copyright © 2006 by Bay City News, Inc. -- Republication, Rebroadcast or any other Reuse without the express written consent of Bay City News, Inc. is prohibited.
####