San Francisco Police Commission
approves crime cameras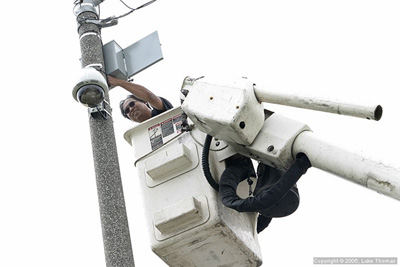 Photo(s) by Luke Thomas
By Brent Begin, Bay City News Service
November 15, 2006
SAN FRANCISCO (BCN) - The San Francisco police commission unanimously approved a plan Wednesday night to install most of the 22 new cameras proposed in high crime areas of the city.
The vote came after hours of public testimony, mostly in support of monitoring high-crime areas, but some questioning the potential strain on privacy rights.
Allen Nance, the director of the mayor's office of criminal justice, presented the abilities and goals of the cameras to the commission.
He said the role of the cameras would be to deter crime, in keeping with a Board of Supervisors ordinance.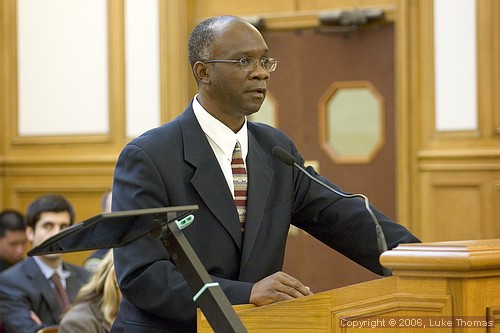 Director of Criminal Justice Allen Nance
Commissioner Theresa Sparks said she wholeheartedly supported crime surveillance.
"As far as I'm concerned, you can put a camera on every corner in the Tenderloin and I'd be fine with it," said Sparks, who added that she hoped the cameras would be installed immediately.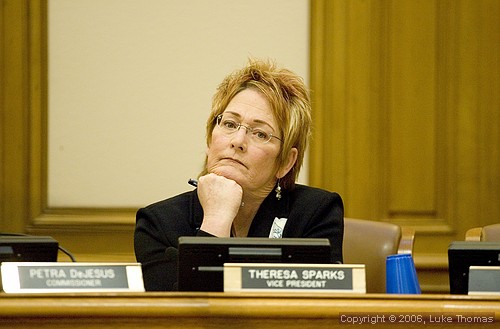 Commissioner Theresa Sparks
The American Civil Liberties Union, however, opposed the installation of the cameras because the group claims they would lead to an Orwellian invasion of privacy without actually deterring crime.
Mark Schlossberg, an ACLU attorney, said spending the money on other more effective means of combating crime such as improved foot patrols, community policing and improved lighting conditions would be a better use of the city's money.

ACLU spokesperson Mark Schlossberg
Commissioners said they supported the idea of public surveillance. Some did bring up problems, however, with the notice given to neighborhood residents and the decision to place cameras where homicides have actually occurred.
Mayor Gavin Newsom unveiled the plan in September to install 50 cameras throughout the city. But according to Nash, the mayor's office hasn't secured the funding to fulfill that goal yet.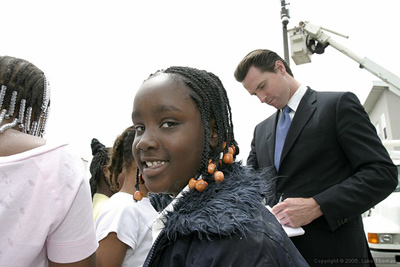 So far, at least one camera has helped police capture a man suspected of shooting a 13-year-old girl in the leg in front of the Alemany housing development.
The cameras are slated to be installed at 24th and Mission streets, Geneva Avenue and Mission Street, Turk and Taylor streets, Ellis and Jones streets and at 1050 McAllister St.
Cameras meant to be installed on 16th and Mission streets will be delayed because of a request from Supervisor Chris Daly to be heard at a future meeting.
With the long line of public speakers, few saw much of what happened later in the night.
The commission decided the disciplinary charges for Lt. Jerry Lankford who was caught driving around in his black Cadillac Escalade with a towel over his license plate.
The commission did not announce its decision in public, but they were going by a recommendation from Chief Heather Fong that Lankford serve a 120-day suspension and be entered into a mandatory anger management class as well as a substance abuse program.
Also at tonight's meeting, commissioners barely defeated a proposal from Commissioner Petra DeJesus that would have made deals in disciplinary hearings settled in private a matter of public record.
Commissioners cited a recent California Supreme Court ruling that affirmed the confidentiality of peace officer records.
Copyright © 2006 by Bay City News, Inc. -- Republication, Rebroadcast or any other Reuse without the express written consent of Bay City News, Inc. is prohibited.
####