Police Commission approves
more public safety cameras
Leno bill discussed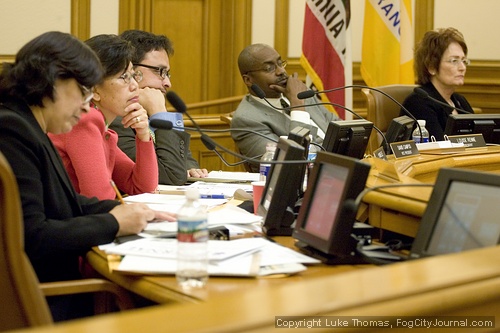 Police Commissioners Petra DeJesus, Yvonne Lee, David Campos, Joe Marshall and Theresa Sparks voted unanimously to authorized the installation of three public safety cameras at the intersection of Haight and Webster streets.
Photo(s) by Luke Thomas
By Brent Begin, Bay City News Service

April 4, 2007
SAN FRANCISCO (BCN) - The San Francisco Police Commission approved crime cameras at one more spot in the city but made it clear that no more would be approved until their effectiveness is proved.
Three cameras will soon go up at Haight and Webster streets after a unanimous vote from the commission, but members addressed civil rights concerns by adding provisions that the cameras will have to be turned off during lawful demonstrations and parades.
Commissioner Yvonne Lee said she would only approve this location because it should have been part of an original pilot program designed to test usefulness of the cameras.
"I hope there will be no further requests until we see the effect that they have on the community," Lee said.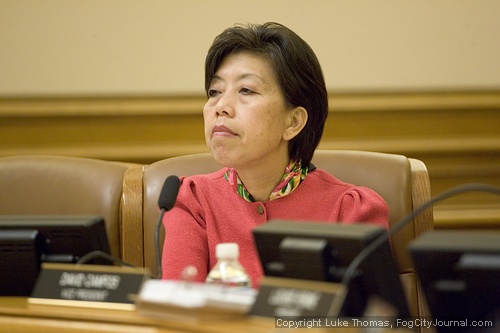 Commissioner Yvonne Lee
Mayor's Office of Criminal Justice Director Lenore Anderson told Fog City that some camera locations have shown as much as a 30% decline in overall crime activity, but was unable to offer specifics. Lenore said a report detailing crime deterrence and detection effectiveness is due to be released in August.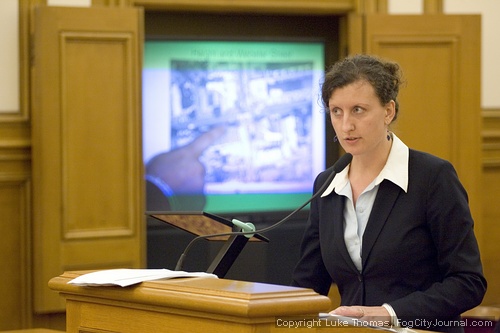 Mayor's Office of Criminal Justice Director Lenore Anderson
There are 55 cameras installed in the city already, each at a cost of $12,000 each, Lenore said.
Commissioner David Campos said he wasn't concerned about the monetary costs of the program.
"I do think that the cost is pretty high and I think the cost is civil liberties and I think we should be mindful of that," Campos said. "We shouldn't vote for something unless we're sure it works."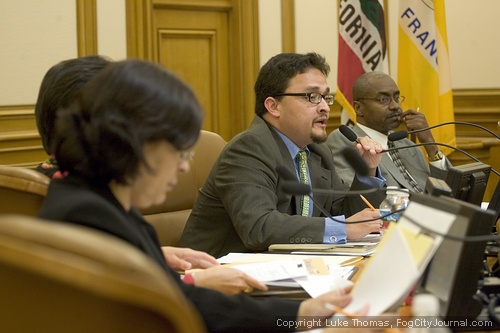 Commission Vice President David Campos
Also at tonight's meeting, Campos submitted a resolution urging the mayor and Board of Supervisors to support an assembly bill that would change state legislation to make police disciplinary records open to the public.
Before a California Supreme Court decision in 2006 upheld peace officer confidentiality laws, the San Francisco Police Commission, along with other police oversight boards throughout the state, regularly held open hearings on disciplinary cases from police brutality to off-duty drunk driving arrests.
Assemblyman Mark Leno, D-San Francisco, has proposed a bill that would require that hearings be again conducted in public.
The commission unanimously approved a resolution supporting that bill despite protests from the members of the San Francisco Police Officers Association and the chief of police.
John Tennant, the police union's legal counsel, said the bill was "far too far in the wrong direction." Tennant added that revealing an officer's identity opens him or her to ridicule before anything has been proven at trial.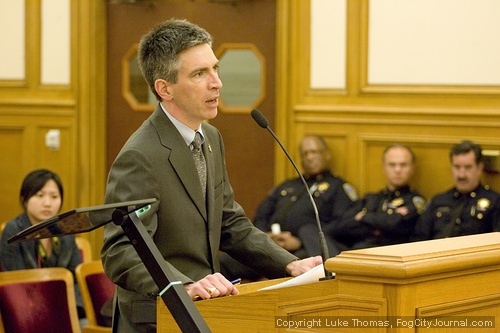 POA counsel John Tennant
He also added that there were a number of methods to learn about police disciplinary matters such as through a "Pitchess motion" where a lawsuit filed against an officer opens his records to courtroom proceedings.
Police Chief Heather Fong said she supports open hearings when an officer requests it, but she said that exposing an officer's identity makes it difficult for them to return from a high profile disciplinary case and become a good cop again.
"Police officers make mistakes as does everybody else in society," Fong said.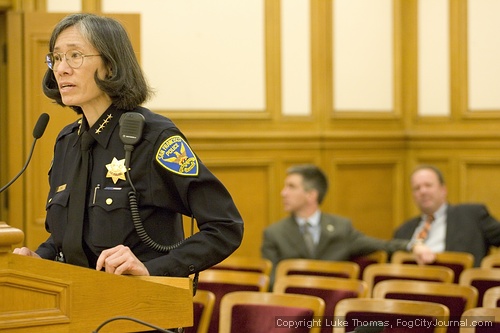 Police Chief Heather Fong
Campos mentioned that Los Angeles Police Chief William Bratton supported Leno's bill. Campos added that he has a great deal of respect for police officers in the department and that they would gain more respect among San Franciscans if their actions were more transparent.
Commissioner Theresa Sparks said that police officers are authorized "to in certain circumstances use deadly force," and that should put officers who carry guns at a higher level of scrutiny.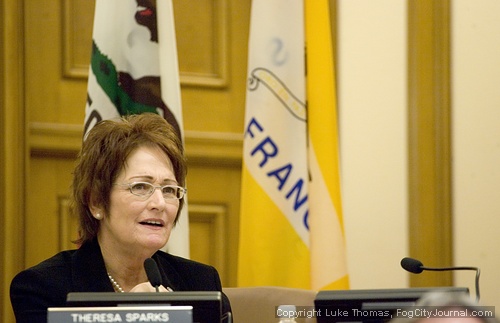 Commission President Louise Renne was absent from tonight's meeting.
Luke Thomas contributed to this report.
Copyright © 2007 by Bay City News, Inc. -- Republication, Rebroadcast or any other Reuse without the express written consent of Bay City News, Inc. is prohibited.
####