Police Commission prepares for historic leadership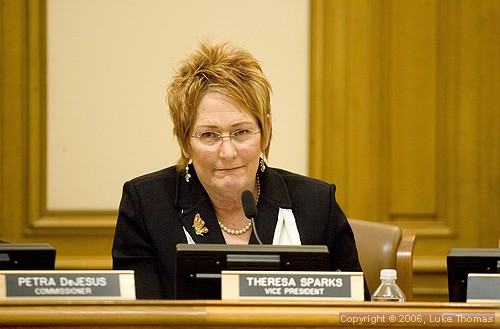 Reformist Theresa Sparks made history May 9 when she was elevated by a 4-3 vote to head the San Francsico's Police Commission. Sparks' elevation marks the first time in U.S. history a transgendered woman will head a big city police commission.
Photo(s) by Luke Thomas
By Tamara Barak

May 17, 2007
As they heard routine reports and cleaned up language in taxi regulations at tonight's meeting, the San Francisco Police Commission showed little hint that it was about to embark on an historic journey.
On June 6, Commissioner Theresa Sparks will take over as president of the civilian oversight body - making her the first transgendered woman to head a city commission in San Francisco.
Sparks, a reformer who is working for more transparency in police matters, was elected 4-3 at the May 9 commission meeting. Sitting President Louise Renne promptly resigned following the vote.
Sparks, who is CEO of the San Francisco-based sex toy retailer Good Vibrations, beat out Joe Marshall for presidency of the board. Marshall had been Mayor Gavin Newsom's pick to head the commission.
Last week's fireworks were barely detectable at tonight's meeting, however. Without a president of the commission, Vice President David Campos ran the meeting.
Meanwhile, Sparks' ascent is a cause for celebration for the transgender community.
Cecilia Chung, a transgendered woman who was appointed by Newsom to the San Francisco Human Rights Commission, called Sparks' election to president "inspiring and encouraging."
"This is quite symbolic. I believe this is a great way to really build bridges between communities that historically have had many misunderstandings with the Police Department," Chung said.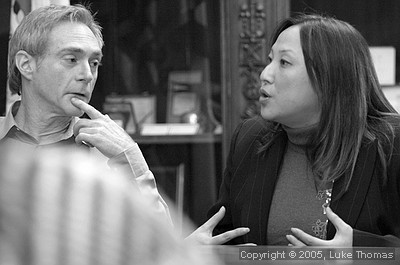 Cecilia Chung (right).
Chung said she is confidant Sparks will excel as president of the commission.
"Theresa is definitely a strong leader. Not only does she have experience from a business and management background, but she has been communicating and building relationships with the front line staff at the Police Department."
While Chung hopes Sparks' public role will inspire other transgendered people to get involved in local government, she also stressed that Sparks earned her new position through her qualifications.
"I think Theresa and I share the same sentiment that in an ideal world, (the fact that she is transgendered) wouldn't have any significance.
In an ideal world, everyone would have the same chance to lead by their abilities and qualifications," she said.
Copyright © 2007 by Bay City News, Inc. -- Republication, Rebroadcast or any other Reuse without the express written consent of Bay City News, Inc. is prohibited.
####