Newsom moves to aid San Francisco police recruitment and retention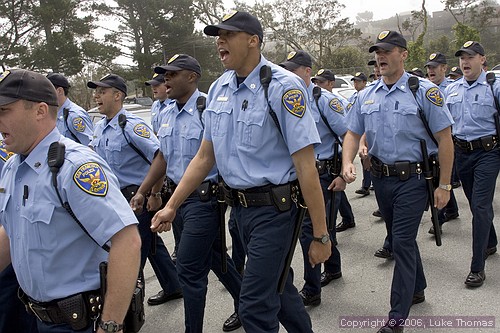 Photo(s) by Luke Thomas
By Emmet Berg, Bay City News Service

October 24, 2006
SAN FRANCISCO (BCN) - Paying veteran police officers extra and offering bonuses linked to San Francisco Police Department recruitment were the aims of negotiated financial incentives put forth by Mayor Gavin Newsom yesterday.
"These bonuses allow for our veteran police officers to stay on the force, while also declaring to the best and brightest in law enforcement, across the United States, that San Francisco will compensate you accordingly for your services," said Newsom in statements released by the mayor's office.
The mayor's plan to offer $250,000 in financial incentives is part of an amendment to the city's current agreement with the union representing officers.
The San Francisco Police Officers' Association has already agreed to the terms of the deal, according to mayoral spokesman Joe Arellano. To become reality the plan needs assent from the Board of Supervisors, which is expected to consider the package first in its Government Audit & Oversight Committee.
The plan offers retention pay of 4 percent to officers who have completed more than 30 years of service. It also provides for a $1,000 referral bonus if an officer who recruits a successful candidate for a police officer position, and pays $5,000 in signing bonuses to police officers hired from other agencies.
The $250,000 package proposal would be allocated every year to a joint labor management recruitment committee. The signing bonuses could kick in immediately on approval, though the pay raises would take effect in June 2007.
The mayor's proposal also calls for the elimination of the practice of "burnoff," when retiring officers use accrued leave time during their final 90 days of employment. No one from the officers' union was available for comment on that or other aspects of the incentive plan.
Copyright © 2006 by Bay City News, Inc. -- Republication, Rebroadcast or any other Reuse without the express written consent of Bay City News, Inc. is prohibited.

####