Breakthrough announced
in quest to curb port vessel emissions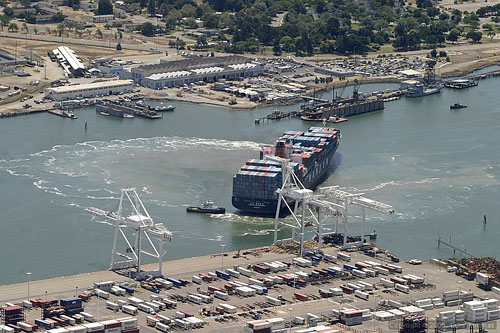 Photo(s) by Luke Thomas
By Matt Wynkoop

June 14, 2007
A Bay Area-based container transportation company has announced a new plan that could potentially reduce shipping vessel emissions at U.S. seaports.
The world's eighth-largest container company, APL, is spearheading the plan, which aims to fine-tune an alternative marine vessel powering process known as "cold-ironing.''
Cold-ironing reportedly allows large sea-going vessels to shut off diesel powered generators that provide electricity to ship and usually run even while a vessel is docked, according to APL spokesman Mike Vampa.
The method has been around for many years, but maritime industry officials have typically been leery of its cumbersome and unsafe process that requires 10 large high-voltage cables to plug into a ship's transformer.
Researchers at APL have reportedly come up with a new cold-ironing method that uses only a single, three-inch diameter cable, and environmentalists are hoping it will be a system that officials in the maritime industry will warm up to.
The method supposedly eliminates the production of exhaust from ships during docking, Vampa said.
According to a statement from APL, cold-ironing can eliminate more than 1,000 pounds of exhaust pollutants in a single containership port call.
Several local agencies are jumping on the support train for APL's new method, with financial assistance for a summer test run aboard the 863-foot container ship APL China coming from the Port of Oakland, the Bay Area Air Quality Management District and Pacific Gas and Electric Co.
"We've seen a number of innovative proposals to curb vessel emissions,'' said Omar Benjamin, Executive Director of the Port of Oakland.
"We're taking part in this test because it holds the promise of significant benefits for air quality in and around the port.''
APL's new process allows a single high-voltage cable to be attached to the vessel's bow thruster circuit, which is a propeller mounted in a ship's bow to push it sideways during docking, Vampa said.
A high voltage electrical motor that is also connected to the rest of a ship's low-voltage power system drives the bow thruster, and when the shore-based electrical currant is connected, it can effectively power the whole ship, according to Vampa.
It is estimated that when a ship's engines are shut down during cold-ironing, APL's plan can eliminate 1,000 pounds of nitrogen oxide emissions, 70 pounds of sulfur oxides and 15 pounds of particulate matter in a single 24-hour port call, Vampa said in a statement.
Officials hope that if this summer's trial run is a success, several factors would likely be attractive to maritime industry leaders.
The retrofit cost for cold-ironing is projected at around $225,000, far less than original estimates that fell upwards of $1.5 million, according to APL Americas President John Bowe. The process should also ideally be available to ships at ports worldwide.
APL plans to test the cold-ironing concept in July at the Oakland's Middle Harbor Terminal, Bowe said. The test will be to make sure the APL China's transformer can handle a continuous load from a shore side power source.
Copyright © 2007 by Bay City News, Inc. -- Republication, Rebroadcast or any other Reuse without the express written consent of Bay City News, Inc. is prohibited.
####