Schwarzenegger to appeal orders for prison panel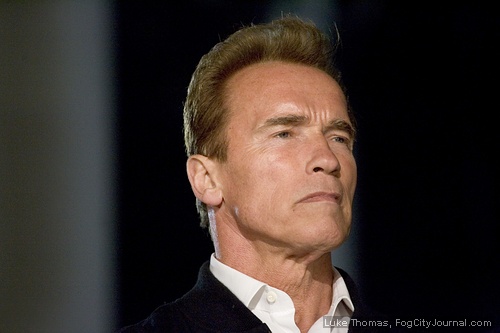 Gov. Arnold Schwarzenegger
Photo(s) by Luke Thomas
By Julia Cheever

July 24, 2007
Gov. Arnold Schwarzenegger said Monday the state will appeal orders in which two federal judges ruled that a special panel must be convened to consider a possible cap on California's prison population.
Schwarzenegger said, "We intend to appeal these orders to ensure that dangerous criminals are not released into our communities."
U.S. District Judge Thelton Henderson of San Francisco and U.S. District Judge Lawrence Karlton of Sacramento issued the orders in two civil rights lawsuits filed over inadequate medical care in the state's overcrowded prisons.
If the future three-judge panel decides the population must be limited, one possible outcome could be orders for release of some of California's 173,000 inmates.
The governor also said he hopes that steps the state has taken, including passage of a $7.9 billion prison construction bill, would make any action by the panel unnecessary.
He said, "I'm confident that the steps the state has taken and will continue taking will meet the court's concerns."
If not halted by the appeal to the 9th U.S. Circuit Court of Appeals, the panel will be made up of two federal trial judges and one federal appeals court judge. It will be appointed by 9th Circuit Chief Judge Mary Schroeder.
The panel procedure is required by a 1995 law, the Prison Litigation Reform Act, which provides that an order limiting prison population in a constitutional case cannot be made by a trial judge alone, but rather only by a three-judge tribunal.
Henderson and Karlton said in their rulings that the procedure was necessary because inadequate health care and mental health services had reached a state of crisis.
Donald Specter, a lawyer for inmates who sued the state government, said, "The order is completely justified. It is the first step in achieving a reduction in the prison population to end a crisis of constitutional dimensions."
Copyright © 2007 by Bay City News, Inc. -- Republication, Rebroadcast or any other Reuse without the express written consent of Bay City News, Inc. is prohibited.
####