Federal judges announce joint hearing
on prison cap bids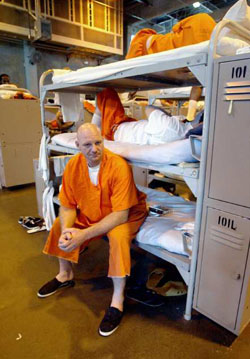 Photo courtesy Dan Ocampo
By Julia Cheever

June 6, 2007
Two federal judges in San Francisco and Sacramento announced today they will hold an unusual joint hearing June 27 in connection with legal bids for a cap on the population in California's overcrowded prisons.
U.S. District Judge Thelton Henderson of San Francisco and U.S. District Judge Lawrence Karlton of Sacramento will hear arguments on whether they should convene a special three-judge panel to decide whether to impose a cap.
The joint hearing, which will take place in Sacramento, was announced in an order issued by Henderson today.
Under a federal law governing prison lawsuits, an order limiting prison population in a constitutional case can be made only by a panel made up of two federal district judges and one U.S. appeals court judge.
Henderson and Karlton are both presiding over lawsuits in which lawyers representing inmates have asked for such an order. Attorneys for the prisoners have argued that reducing the number of inmates is the only way of alleviating what they describe as "horrific" and unconstitutional deficiencies in medical care.
The lawsuit before Henderson concerns general medical care and the case before Karlton concerns mentally ill prisoners.
Last year, Henderson, after finding that prison medical care was "abysmal," appointed a receiver to take over the state's prison health care system.
U.S. District Judge Claudia Wilken of Oakland is presiding over a third case concerning disabled inmates. Lawyers in that case have also asked for a three-judge panel.
Gov. Arnold Schwarzenegger has said he hopes a recently announced prison expansion and improvement proposal will help to solve dangerous overcrowding.
But Donald Specter, a lawyer representing prisoners in all three lawsuits, said today the expansion plans don't solve the problem because they increase the demand without increasing health care services.
Henderson and Karlton said in the order, "We conclude that the interests of judicial economy weigh in favor of a joint hearing in this matter."
Copyright © 2007 by Bay City News, Inc. -- Republication, Rebroadcast or any other Reuse without the express written consent of Bay City News, Inc. is prohibited.
####