Newsom appoints David Hochschild
to Public Utilities Commission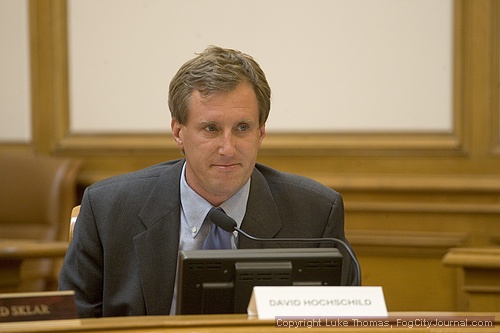 David Hochschild is Mayor Gavin Newsom's newest appointee
to the San Francisco Public Utilities Commission.
Photo(s) by Luke Thomas
By Bay City News
August 13, 2007
Solar energy advocate David Hochschild is the newest addition to the San Francisco Public Utilities Commission, Mayor Gavin Newsom has announced.
Hochschild's resume includes two years as chair of the Power Committee for the Public Utilities Citizens Advisory Committee as well as time served as co-chair of the San Francisco Solar Task Force.
"David is an innovator whose level of expertise will help solidify San Francisco and the Public Utilities Commission as a leading source in solar power and clean energy development,'' Newsom said in a statement. "San Francisco is proud to lay claim to many of the best and brightest minds in the field of renewable energy and David certainly serves as example of this accomplishment.''
Hochschild, who co-founded the Vote Solar Initiative, a 30,000 member nonprofit organization focused on promoting solar energy policies in 10 states, will soon begin a new position as vice president for a Silicon Valley startup, focusing on low-cost solar technology. He is a San Francisco native who resides in the city with his wife.
"I'm honored to have this opportunity to serve the city and to help advance San Francisco's goals, particularly with respect to promoting more renewable energy in San Francisco,'' Hochschild said. "I believe there's no area where we have a greater opportunity for San Francisco to become a model for the rest of the nation.''
Copyright © 2007 by Bay City News, Inc. -- Republication, Rebroadcast or any other Reuse without the express written consent of Bay City News, Inc. is prohibited.
####