San Francisco Supervisors agree with voters:
Mayor should appear monthly at meetings
Alioto-Pier casts lone dissenting vote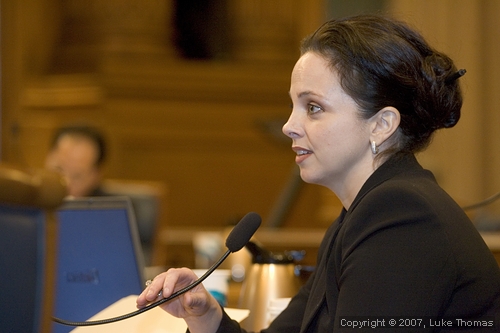 District 2 Supervisor Michela Alioto-Pier, at the first regularly scheduled Board of Supervisors meeting of 2007, cast the lone dissenting vote against a non-binding resolution compelling the mayor of San Francisco to attend board meetings once a month.
Photo(s) by Luke Thomas
By Emmett Berg, Bay City News Service

January 10, 2007
SAN FRANCISCO (BCN) - Supervisors in San Francisco voted 10-1 yesterday to schedule monthly appearances by Mayor Gavin Newsom at their meetings, a non-binding resolution the lone dissenting supervisor called "gotcha politics."
Supervisor Michaela Alioto-Pier disparaged the board action, which was linked to voter passage last November of Measure I.
The measure, approved by 56 percent of voters, asked, "Shall it be City policy to urge the Mayor to appear in person at one regularly scheduled meeting of the Board of Supervisors each month to engage in formal policy discussions with members of the Board?"
Alioto-Pier asserted that neither the voter measure nor the board rule change passed by the supervisors yesterday actually had the effect of forcing the mayor to appear at meetings of the Board of Supervisors. That would require a charter amendment, she said.
The mayor wasn't likely to show up at board meetings, said Alioto-Pier, who is considered an ally of Newsom's.
"I believe quite honestly we are lowering ourselves," the supervisor said. "Let's not play 'gotcha' politics with our agenda. Let it go."
No one from the mayor's office was immediately available to comment. None of the 10 supervisors who voted yes offered comments before the board.
Copyright © 2006 by Bay City News, Inc. -- Republication, Rebroadcast or any other Reuse without the express written consent of Bay City News, Inc. is prohibited.

####