800 robots to compete at International RoboGames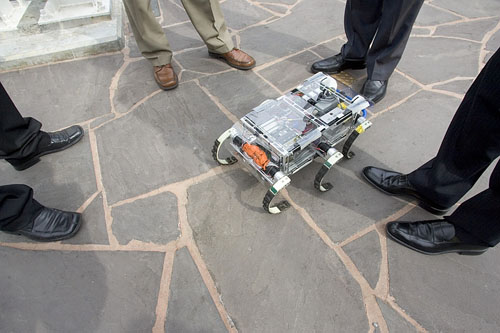 Photo(s) by Luke Thomas
By Laura Dudnick

June 12, 2007
Over 800 robots will storm the Bay Area this weekend at the fourth annual International RoboGames, also labeled in the Guinness Book of World Records as the "world's largest robot competition."
The robots will compete in 61 different events, including combat, soccer, sumo, basketball, hockey, fire fighting, android races, android acrobatics, art robots, iron-man exoskeleton weight lifting, and android kung-fu.
Award-winning robot teams from Japan and Brazil are both expected to produce robots to compete in various categories. It is anticipated that a Japanese team will bring a robot able to roller skate and skateboard as well.
The show is also expected to boast combat robots, with some weighing as heavy as 340 pounds. The robot fights, which include crashes and flame-throwing, take place behind bullet-proof glass in order to protect the audience.
"The combat robots just keep getting better each year,'' RoboGames founder David Calkins said in a statement. "We've got teams flying in from around the US and Canada, Brazil, Mexico, the UK, Netherlands, Australia, and even Iran just to compete in the robot combat.''
In addition to the 61 regular sporting events, RoboGames will host the 12th Annual Federation of International Robot-Soccer Association (FIRA)'s 12th annual Robot World Cup, where teams from at least 20 countries are expected to compete in the robot soccer events.
"We're really thrilled to be host to [the] FIRA World Cup,'' Calkins said. "The FIRA teams arethe best researchers in the world... The improvements these guys make in their robots each year always amazes me, and I see great robots all the time.''
The venue will be open to the press on Thursday, although not all robots will be on display by then.
Friday is the "Judd-Feldstein-Bruce Free Kids Day,'' which omits an admission charge for children 17 and under. The soccer and combat events will begin on Friday, in addition to the opening night VIP/Press/Contestant Party, which begins at 6 p.m.
On Saturday the medal events will take place, and will carry over to Sunday. Saved for Sunday are the lightweight, middleweight, heavyweight, and super-heavyweight combat finals.
Engineering teams from 30 different countries will be traveling to San Francisco for the competitions, which will take place Friday through Sunday from 12 p.m. to 10 p.m. each day.
RoboGames was founded as the ROBOlympics in 2004 by Calkins, who recognized the need for events in robot competitions that combined various fields of interest. Calkins wanted to bring different types of robot builders together in order to let them exchange ideas and learn from one another.
RoboGames also offers recognition to engineers from around the world with little or no contestant fees and consistent rules among the various disciplines.
Copyright © 2007 by Bay City News, Inc. -- Republication, Rebroadcast or any other Reuse without the express written consent of Bay City News, Inc. is prohibited.
####