Rosenthal asks federal judge for new trial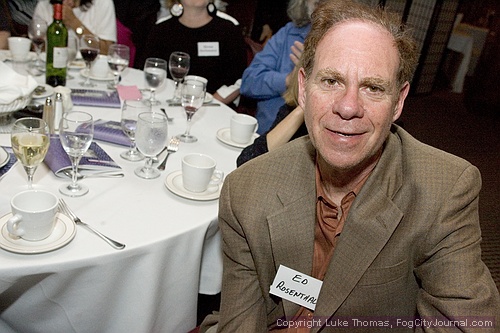 Ed Rosenthal.
Photo(s) by Luke Thomas
By Julia Cheever

June 23, 2007
Oakland marijuana activist Ed Rosenthal, convicted of marijuana cultivation for a second time last month, has asked a federal judge in San Francisco for a new trial.
Rosenthal, 62, argued a half-dozen reasons for a new trial in a brief filed June 11, including a claim he was denied a jury of his peers because people who supported medical marijuana were barred from his jury.
Defense attorney Robert Amparan wrote, "Rather than empanelling a jury of Mr. Rosenthal's peers, the court excluded over 60 percent of the potential jurors based solely on their views of medical marijuana."
But Assistant U.S. attorney George Bevan, in a response filed with U.S. District Judge Charles Breyer this week, contended, "None of the defendant's allegations have any factual or legal merit."
The prosecutor wrote, "The trial record is clear that the defendant received a fair trial; that he was convicted by an impartial and unbiased jury, on the strength of clear and overwhelming evidence that the defendant manufactured thousands of marijuana plants."
Rosenthal, the author of a dozen books about marijuana, was convicted in Breyer's court on May 30 of three counts of conspiring to grow marijuana and growing the drug at an Oakland warehouse between 1998 and 2002.
He was found guilty of three similar counts in an earlier trial in 2003, but that conviction was later overturned by an appeals court on the ground that a juror improperly consulted a lawyer friend during deliberations.
Breyer has said he will sentence Rosenthal to the same sentence as before -- one day in jail, already served -- but earlier this month delayed the sentencing until he received the new trial briefs.
The judge has not yet set a date for sentencing or a possible hearing on the new trial bid.
A new trial motion is a common defense move after a conviction and had been promised by Rosenthal's lawyers, but is rarely successful.
Rosenthal has claimed he was growing starter plants for patients under California's medical marijuana law, but was not permitted to raise that defense during his trial because federal drug laws make no exception for state medical marijuana statutes.
During jury selection, Breyer dismissed 54 potential jurors, out of a pool of 90, who said they had views on medical marijuana that could affect their ability to apply the federal law.
Rosenthal's new trial motion also claims Breyer erred in excluding evidence about the scientific value of medical marijuana and precluding witnesses who would have testified about his state of mind.
But Bevan wrote, "The medical value of marijuana was not relevant to any element of the charged offenses."
Copyright © 2007 by Bay City News, Inc. -- Republication, Rebroadcast or any other Reuse without the express written consent of Bay City News, Inc. is prohibited.
####