Rosenthal sentenced for marijuana cultivation,
vows to appeal
"I have done nothing wrong"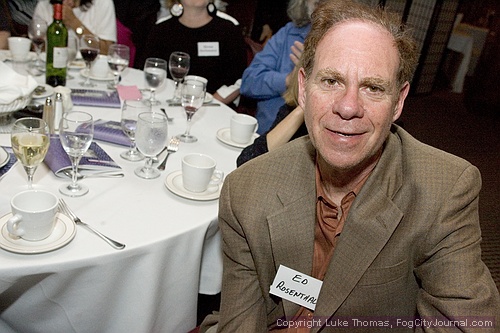 Ed Rosenthal.
Photo(s) by Luke Thomas
By Julia Cheever

July 7, 2007
Oakland marijuana activist Ed Rosenthal was, as expected, sentenced in federal court in San Francisco yesterday to one day already served in jail for marijuana cultivation, even as he vowed a continued appeal.
Rosenthal, 62, told U.S. District Judge Charles Breyer before the sentencing that he wasn't apologetic about growing marijuana in an Oakland warehouse between 1998 and 1992.
"I have done nothing wrong," he told the judge.
Rosenthal claimed he was growing starter plants for patients needing medical marijuana under California law. But he wasn't allowed to make that argument at his trial because federal law makes no exception for state medical marijuana laws.
He told Breyer, "Had I not acted in the face of need I would have suffered from a guilt that in religious terms is called a sin of omission."
Rosenthal, the author of a dozen books about marijuana, was convicted by a jury in Breyer's court in May of three counts of growing marijuana and conspiring to do so at the Oakland warehouse.
The one-day sentence was expected because Breyer had previously announced he planned to give that penalty - the same sentence he gave Rosenthal for a similar 2003 conviction that was later overturned.
The judge's reason for the light penalty was that Rosenthal sincerely believed he was protected from federal prosecution because he was helping the city of Oakland carry out its medical marijuana program.
When the 9th U.S. Circuit Court of Appeals overturned the earlier conviction for unrelated reasons last year, it said the sentence was reasonable and said it "would not be inclined to disturb" Breyer's sentencing analysis after a retrial.
The 2003 conviction was set aside because a juror improperly consulted a lawyer friend during deliberations.
Rosenthal said he plans to appeal the new conviction. Shortly before the sentencing, Breyer issued a written ruling turning down Rosenthal's request for a new trial.
Among other arguments, Rosenthal contended he was denied a jury of his peers because people who supported medical marijuana were barred from his jury.
But Breyer wrote in his ruling that he did not dismiss potential jurors because they had views on medical marijuana, but rather excluded only those who said their views would keep them from being impartial.
Copyright © 2007 by Bay City News, Inc. -- Republication, Rebroadcast or any other Reuse without the express written consent of Bay City News, Inc. is prohibited.
####