Federal judge issues injunction against
planting of genetically engineered alfalfa seeds
Environmental impact study ordered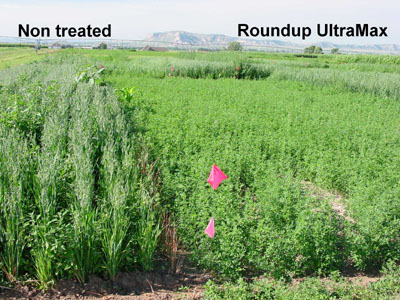 Photo courtesy University of Nebraksa
By Julia Cheever

May 3, 2007
A federal judge in San Francisco today barred the U.S. Agriculture Department from allowing further sale and planting of a genetically engineered alfalfa seed until a full environmental impact study is prepared.
The seed is known as Roundup Ready alfalfa. It is genetically engineered to resist the herbicide Roundup, thus enabling alfalfa to grow when Roundup is used to kill weeds in alfalfa fields.
Both Roundup and the technology for the Roundup Ready alfalfa seeds are made by St. Louis-based Monsanto Co.
U.S. District Judge Charles Breyer issued a permanent injunction in a lawsuit filed by eight environmental and farm groups, including the Center for Food Safety and the Sierra Club.
Will Rostov, a lawyer in the San Francisco office of the Center for Food Safety, said, "This is a huge victory for the environment."
Rostov said, "It's the first time a federal court has stopped further planting of a genetically engineered crop approved by the government."
The injunction prohibits any further sale and planting of the engineered seed until the study is prepared but allows careful harvesting of engineered alfalfa already planted on about 220,000 acres nationwide.
That alfalfa was planted before Breyer temporarily blocked use of the new seed in a preliminary injunction in March. The total national cultivation of alfalfa is about 22 million acres.
The environmental groups argued the engineered gene could contaminate organic and conventionally grown alfalfa through pollination by bees and wind.
In an earlier ruling, Breyer agreed that the loss of some or all non-engineered alfalfa would have a significant impact on farmers who want to use non-engineered alfalfa and consumers who don't want to eat dairy products and meat from cattle fed with engineered alfalfa. A full study was therefore needed, the judge said.
In today's decision, Breyer wrote, "It is not in the public interest to take action that has the potential of eliminating the availability of a non-genetically engineered crop without adequate investigation into the long-term impact of such action."
The lawsuit was filed against the U.S. Agriculture Department, but Monsanto was allowed to join the case later.
The company has said the engineered seed offers "an effective, environmentally responsible alternative weed-control system in alfalfa that contributes significantly to grower profits and the production of enhanced quality animal feed for the dairy industry."
Copyright © 2007 by Bay City News, Inc. -- Republication, Rebroadcast or any other Reuse without the express written consent of Bay City News, Inc. is prohibited.
####