February trial confirmed in royal Tongan fatal crash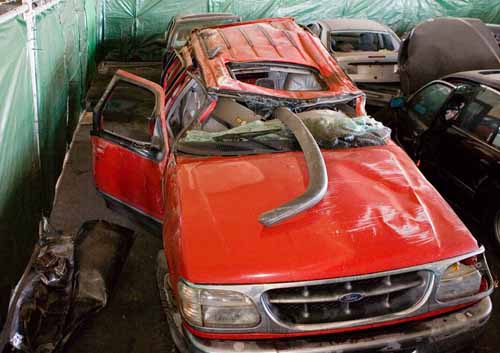 A post-crash red Ford Explorer driven by the royal Tongan couple
rests impounded in a tow yard in San Bruno.
Photo by Sarah Sewell
By Ari Burack, Bay City News Service

December13, 2006
REDWOOD CITY (BCN) - A February trial date was set Tuesday in San Mateo County Superior Court for Edith Delgado, an 18-year-old Redwood City woman accused of causing a highway car crash in July that killed three people, including two members of the Tongan royal family.
No plea agreement was struck at Tuesday's pretrial conference and the case was confirmed for jury trial beginning Feb. 13, according to the San Mateo County district attorney's office.
Delgado remains in custody in lieu of $1 million bail. An appeals court earlier reduced bail after it was originally set at $3 million, but a further appeal to reduce bail was denied in November.
An assistant with defense attorney Randy Moore said today that Moore plans to meet with Delgado's parents "probably next week'' to discuss whether they would like to continue to pursue a reduction in her bail amount.
Delgado has pleaded not guilty to three counts of vehicular manslaughter with gross negligence for her alleged role in a July 5 crash on U.S. Highway 101 in Menlo Park that killed Tonga's Prince Tu'ipelehake, 54; Princess Kaimana Tu'ipelehake, 45; and their driver, Vinisia Hefa, 36.
Delgado allegedly was speeding north of Willow Road around 9 p.m. when her Ford Mustang hit Hefa's Ford Explorer carrying the royal couple, causing it to roll several times and land on its roof, according to the California Highway Patrol.
At a preliminary hearing on Sept. 20, Judge Robert Foiles ruled that there was sufficient evidence for Delgado to stand trial, saying that there was "reasonable cause'' to find that a crime had been committed.
On Oct. 31, a motion was granted to allow the trial to be set back more than two months to allow Moore time to seek the testimony of an expert in accident reconstruction.
If convicted of all the charges she is facing, Delgado could spend a maximum of eight years in prison, according to San Mateo County Chief Deputy District Attorney Steve Wagstaffe.
Copyright © 2006 by Bay City News, Inc. -- Republication, Rebroadcast or any other Reuse without the express written consent of Bay City News, Inc. is prohibited.

####