City leaders react to same-sex marriage ruling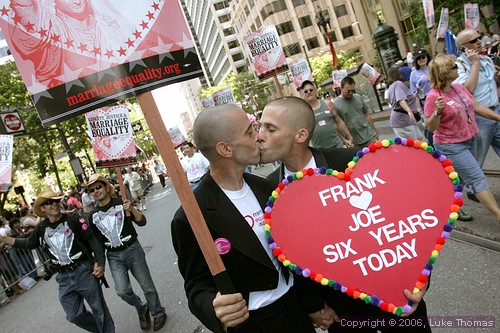 Photo(s) by Luke Thomas
By Julia Cheever, Bay City News Service

October 5, 2006
SAN FRANCISCO (BCN) - A state appeals court in San Francisco ruled today that same-sex couples do not have a right to marry under the California constitution.
A Court of Appeal panel by a 2-1 vote upheld state laws requiring marriage to be between a man and a woman.
Justice William McGuinness wrote in the majority decision, "Courts simply do not have the authority to create new rights, especially when doing so involves changing the definition of so fundamental an institution as marriage."
The court majority said the Legislature and voters had a rational basis for restricting marriage to opposite-sex couples while at the same time giving same-sex couples equal benefits through the state's domestic partnership system.
McGuinness wrote, "By maintaining the traditional definition of marriage while simultaneously granting legal recognition and expanded rights to same-sex relationships, the Legislature has struck a careful balance to satisfy the diverse needs and desires of Californians."
McGuinness, joined in the majority by Justice Joanne Parrilli, said, "The time may come when California chooses to expand the definition of marriage to encompass same-sex unions," but said that change must come from the Legislature or a voter initiative.
Justice Anthony Kline said in a dissent that he believes same-sex couples have a constitutional privacy right to marry.
The final decision in the case will be made by the California Supreme Court, however.
San Francisco City Attorney Dennis Herrera and lawyers from the National Center for Lesbian Rights both promised to appeal to the state high court.
Herrera said, "This is a disappointing ruling but it is only the second round in what we have always known would be a three-round fight."
Herrera said, "We look forward to making our case in the California Supreme Court and we are confident we will succeed."
San Francisco Mayor Gavin Newsom also commented on the ruling at a news conference today at City Hall. He said the decision was "a bit disappointing" but "not shocking."
"This is inevitably going to the Supreme Court," Newsom said. "That's where it ultimately belongs. It doesn't belong, respectfully, to the majority."
In the first round of the case, San Francisco Superior Court Richard Kramer ruled last year that same-sex couples had a right to marry. Today's decision overturns that ruling.
National Center for Lesbian Rights attorney Shannon Minter, who represents 12 gay and lesbian couples, said, "We are optimistic that the California Supreme Court will affirm the trial court's historic ruling and strike down one of the last remaining laws to discriminate against an entire group of people in this state.''
The state laws were defended by California Attorney General Bill Lockyer.
Lockyer spokesman Nathan Barankin said today that the court agreed with Lockyer that "a fundamental policy change is a decision best left to the voters and the Legislature."
Barankin said, "Our position from the beginning has been that the law will remain uncertain until the California Supreme Court has a chance to review it or to make a determination not to review it. The state attorney general's office will continue to defend state law."
The decision was made in six consolidated lawsuits. Four of the lawsuits, filed by the city of San Francisco and a total of 20 same-sex couples, supported same-sex marriage. Two other suits filed by traditional values groups opposed it.
Glen Lavy, a lawyer for one of those groups, the Proposition 22 Legal Defense and Education fund, said, "The court today recognized that political special interests shouldn't trump what's in the best interest of families and children."
Proposition 22 was a state voter initiative defining marriage as being between a man and a woman.
Lavy said, "No matter how many times activists try to redefine it, marriage means one man and one woman. Everything else is counterfeit."
Molly McKay, media director of Marriage Equality USA, a gay rights group, said, "Though we are disappointed, we always knew this issue was going to be decided by the California Supreme Court."
Copyright © 2006 by Bay City News, Inc. -- Republication, Rebroadcast or any other Reuse without the express written consent of Bay City News, Inc. is prohibited.

####