Jew sinks Sandoval resolution
condemning Savage hate speech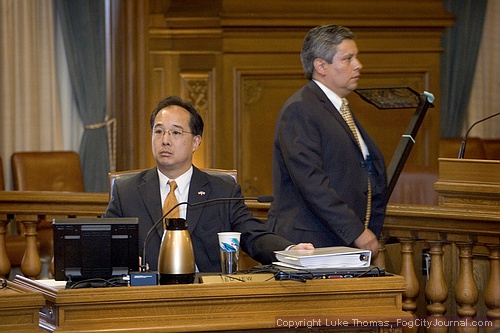 A visibly upset Supervisor Gerardo Sandoval passes by Supervisor Ed Jew after Jew cast the lone dissenting vote effectively killing a Sandoval authored resolution condemning Michael Savage racist hate speech.
Photo(s) by Luke Thomas
By Luke Thomas
August 14, 2007
Supervisor Ed Jew cast the lone dissenting vote today effectively killing a resolution that condemns the type of racist hate speech spouted by Michael Savage on his radio show, The Savage Nation.
The resolution, authored by Supervisor Gerardo Sandoval, required a unanimous vote to assure passage without committee reference.
According to Sandoval, Savage made his disparaging remarks about immigrant students fasting in support of the Dream Act.
"The students, who were fasting in support of the Dream Act, were the subject of hate speech by Michael Savage on his radio show Savage Nation. He 'urged the students to fast until they starve to death'," Sandoval said.
"Don't fool yourself, this kind of speech just incites behavior that is nothing short of hysteria, and it's the kind of hysterical behavior we saw in Nazi Germany 60 years ago.
"He further went on to say to the students on the air to 'go make a bomb where you came from,' implying immigrants are terrorists.
"In the past decade, this type of inflammatory commentary has led to the beating and harassment and repression of many loyal Muslim-Americans, and in the past has led to similar behavior against many other Americans of different ethnic backgrounds.
"This attempt to vilify Latino-Americans will not be tolerated," Sandoval said.
Jew, a Republican Democrat and a Chinese-American, cast the dissenting vote on the basis that Savage, however distasteful his speech might be, is exercising his first amendment right to free speech.
"Colleagues, for the record, I want to state that I do not agree with the comments allegedly made by Mr. Savage, but that the first amendment gives him the right to make those comments," Jew said.
Sandoval fired back calling into question Jew's support for immigrants and minorities.
"I know that in my heart that if this commentary was directed at the Chinese-American community or the Asian community, you would not be resorting to this empty and rigid formalism on your part," Sandoval said.
"I ask you to stand with the Latino community, to stand with the immigrant community, which you have so many times purported to represent and champion," Sandoval pled.
Following the vote, a visibly upset Sandoval told Fog City: "It's a set back because the resolution won't be heard until mid-September, and that takes a lot of wind out of our sails.
"The resolution created a San Francisco policy that says that we recognize this is hate speech and we condemn it. It's a first step in raising awareness - and it will to other councils doing the same thing - and in the end companies like Clear Channel which continue to support him, and the advertisers who continue to support the show, will get the message just like owners of Don Imus' show got the message, just like NBC got the message 4 years ago when they fired Michael Savage.
"It's shameful that San Francisco couldn't get this done today," Sandoval lamented.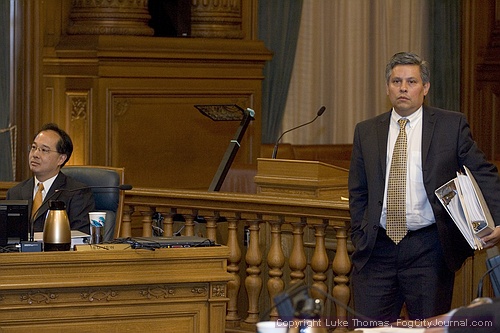 ####