School Board, City, pen statement of mutual commitment to strengthen San Francisco public schools
By Elizabeth Daley, Bay City News Service

April 13, 2007
SAN FRANCISCO (BCN) - San Francisco Mayor Gavin Newsom joined San Francisco Unified School District Superintendent Gwen Chan and School Board President Mark Sanchez in signing a statement to indicate mutual commitment to utilizing a variety of city and community resources to strengthen San Francisco's public schools.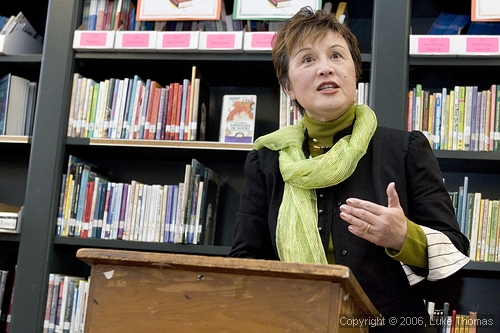 San Francisco Unified School District Superintendent Gwen Chan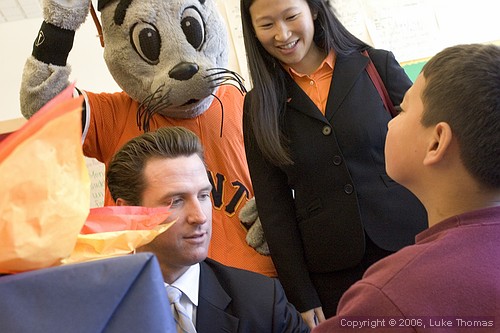 Mayor Gavin Newsom
Sanchez said the "Partnership of Achievement" pact creates a formal forum for discussion between city and school district officials about how to best use community and city resources to benefit school children and the general population.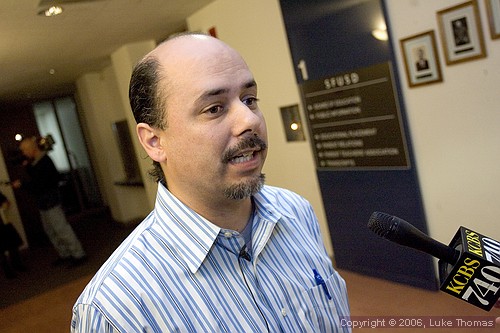 San Francisco School Board President Mark Sanchez
For example, Sanchez said he would like to bolster utilization of school sites that often remain vacant and lifeless during school vacations.
Sanchez said he hoped to make schools available to the local community as community hubs when school is not in session. He added that partnership with the Department of Public Health could strengthen school health services.
Newsom called Federal and State efforts to fix public education "patchwork efforts" and said the agreement signed Thursday would show the city's vested interest and commitment to its public schools.
Newsom said the city had to focus on overall child welfare and health, not just education, recognizing the importance of combating health problems such as obesity and asthma.
Earlier this morning, Sanchez led school board officials from all over North America on a tour of Paul Revere Elementary in Bernal Heights.
School board members from Calgary, Alberta and Worcester, Mass. expressed astonishment at the success of the middle school, citing the many amenities the school had, such as a full-time librarian, and full-time parent liaison.
They applauded SFUSD for allocating resources to the school when they saw it was suffering.
However Sanchez, who used to teach at Paul Revere before its improvements, said even today the school was "still not a place middle class parents would want to send their kids to, which seems to be the litmus test for public schools these days."
Sanchez said over 30 percent of school-aged children in San Francisco attend private school, which is the highest percentage of any city in the nation, though San Francisco has a remarkably low population of school-aged children, at only 14 percent.
"50 percent of African American students dropout and the Latino rate isn't far behind," Sanchez said.
Newsom said San Francisco has had the top performing schools in California for over five years in a row.
"We need more, we aren't at the point to solve everything," Sanchez said.
All parties said the agreement could help prevent adversarial bureaucratic relationships that impede the education and well being of the city's youth.
Copyright © 2007 by Bay City News, Inc. -- Republication, Rebroadcast or any other Reuse without the express written consent of Bay City News, Inc. is prohibited.
####