San Francisco tech experts to study electronic voting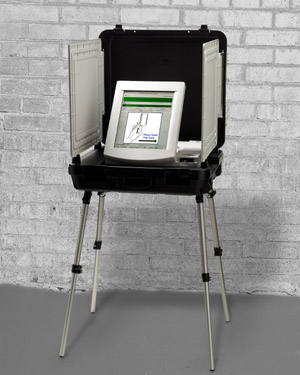 Photo courtesy Caltech/MIT Voting Technology Project
By Emmett Berg, Bay City News Service

January 20, 2007
SAN FRANCISCO (BCN) - The Department of Elections in San Francisco is enlisting software and system security experts in the community to tackle the question of ensuring the integrity of electronic voting.
A task force announced recently is being created to review source code -- the technical language that amounts to a recipe for a computer program -- in its application to electronic voting machines.
Like other local governments across the nation, San Francisco has paid private vendors to provide electronic voting machines.
Though the machines' computer interfaces have generally won acclaim for voter ease-of use, problems have sprung up with reports of machines not operating properly, or election results that may have been tipped by faulty collection of actual voter preferences.
The manufacturers of voting machines have resisted the public release of the source code underlying their technology, citing security and proprietary information concerns.
The balance sought by the Department of Elections is between transparency -- making sure a voting system is on the level and operational -- and security from tampering.
The task force will also be asked to provide a security analysis of San Francisco's voting system and report on its recommendations.
Besides private citizens with expertise, members of the panel will include representatives from the Secretary of State's office and Oakland-based Sequoia Voting Systems, which is under contract to provide voting machines to San Francisco.
"One of San Francisco's goals is to have a review of its existing voting system that will set the foundation for transparent operation of all voting systems," according to a release from John Arntz, director of the Department of Elections. "A second goal for the review process to result in becoming the cornerstone in the development of security standards applicable to all voting systems."
No timetable or names of participants were indicated as of yet for the task force.
Copyright © 2007 by Bay City News, Inc. -- Republication, Rebroadcast or any other Reuse without the express written consent of Bay City News, Inc. is prohibited.

####