Shelter beds for San Francisco homeless under utilized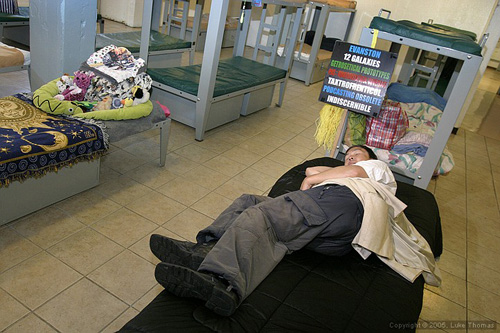 Photo(s) by Luke Thomas
By Brent Begin, Bay City News Service

December 20, 2006
SAN FRANCISCO (BCN) - Despite recent sub-freezing temperatures in San Francisco, hundreds of warm shelter beds are going unused, a spokesman for the city-sponsored Housing and Homeless program said Tuesday.
While many Tenderloin-area shelters typically fill up quickly, there is still plenty of available space at the numerous winter shelters in the outlying neighborhoods of the city, said Joyce Crum, acting director of the Housing and Homeless program.
"What people don't understand about our open beds is that clients don't necessarily like to leave the downtown Tenderloin areas," Crum said.
"But we provide the transportation van to take them to shelters with vacancies."
Crum's program, along with the city's Human Services Agency, has been working around the clock to try and bring in people from off the streets.
She said the less people that sleep out on the streets the better the chance that there won't be any deaths from exposure. A spokesman for the medical examiners office said Tuesday that no deaths caused by the freezing temperatures have been reported in recent weeks.
Shelter clients are reluctant sometimes to stay in the dormitory style living accommodations because of strict curfews and unsafe conditions, but Crum said men and women sleep in separate dorms and employees are doing all they can to monitor the sleeping areas.
Also, Crum said she has instructed workers to offer a bed to anyone who shows up at the shelter door as long as one is open. If the shelter is full, a van provides a lift to a vacant dorm.
City shelters for single clients throughout San Francisco include Multi-Service Center South at 525 Fifth St. (at Bryant Street); Bayview Hope Center at 2115 Jennings Street; Mission Neighborhood Resource Center at 165 Capp St.; Glide Foundation Resource Center at 330 Ellis St.; Tenderloin AIDS Resource Center at 163 Golden Gate Ave.; and the Canon Kip Senior Center at 705 Natoma St.
Additional winter shelters are available for families at Bethel AME Church, 916 Laguna St.; for singles at Providence Baptist Church, 1601 McKinnon Ave.; for men at 150 Otis St.; for men at Trinity Episcopal Church at 1668 Bush St.; for men at St. Mary's Cathedral at 1111 Gough St.; for men at St. Marks Lutheran Church at 1111 O'Farrell St.; and for men at the First Unitarian Church at 1187 Franklin St.
For more information, interested clients can call the Department of Human Services Housing and Homeless program at (415) 558-1902.
Copyright © 2006 by Bay City News, Inc. -- Republication, Rebroadcast or any other Reuse without the express written consent of Bay City News, Inc. is prohibited.

####