San Francisco landslide displaces 120 residents
in North Beach
By Brent Begin and Lara Moscrip, Bay City News Service

February 28, 2007
SAN FRANCISCO (BCN) - Officials have no estimate as to when 120 North Beach residents forced out of their homes due to a massive landslide that hit the southern slope of Telegraph Hill Tuesday morning will be able to return home.
San Francisco Mayor Gavin Newsom came out to assure residents that the city is doing all it can to help those affected by the slide, which includes 87 apartments and condominiums.
The city's Department of Emergency Management is expected to manage the slide throughout the night and the Department of Building Inspection continues to monitor the severity of the damage and its capacity to do more.
Carla Johnson, the deputy director of the Department of Building Inspection, said it will be up to the private owners of the affected properties to finance the cleanup.
"Each property owner who owns a piece of the hillside is charged with its maintenance," Johnson said. "I can only guess how long it will take to get everybody on board."
Buildings located at 412, 426 and 432 Broadway St. sustained the most damage because they are at the bottom of the slide, Johnson said.
Buildings evacuated at the top of the slide, on Vallejo and Montgomery streets, were only red tagged as a precaution.
Officials stressed that they will have a better idea of when the tags will be removed Wednesday. Some displaced residents are seeking shelter with the Red Cross at the Chinese Recreation Center at 1199 Mason St. According to San Francisco Fire Lt. Ken Smith, heavy rains caused the slide, which is about 75-feet wide, 25 feet deep and 36 feet high.
San Francisco Supervisor Aaron Peskin, who represents North Beach, said he first heard about the landslide at 5:59 a.m. when fire Chief Joanne Hayes-White called him on his cell phone. He immediately went to the scene and began talking to shaken residents.
"This hill's been moving for years," Peskin said. "This is the largest event that I've seen, but there have been numerous rock slides. That place right there, which is now called the Usual Suspects Cafe, was closed for years. Much of this hill has already been bolted, netted and pinned back."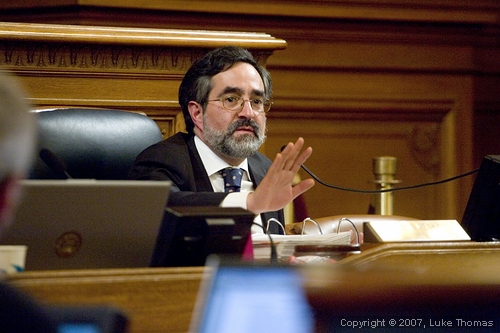 District 3 Supervisor Aaron Peskin
But Peskin said he did his best to keep spirits high as many residents ate donuts and muffins in the cold.
"What can you do, you know? Nobody got hurt, thank God," Peskin said.
Copyright © 2007 by Bay City News, Inc. -- Republication, Rebroadcast or any other Reuse without the express written consent of Bay City News, Inc. is prohibited.
####