San Francisco officials search for answers after Castro Halloween shootings
By Brent Begin, Bay City News Service
November 1, 2006
SAN FRANCISCO (BCN) - A Halloween celebration in the Castro neighborhood Tuesday night ran smoothly and was about to wind down before violence marred the city sponsored event, officials said today.
Police Sgt. Neville Gittens said everything went wrong when shots rang out in the 2200 block of Market Street. In total, 10 people were injured. Nine were shot and one woman received a head injury when she was trampled by the crowd, police said.
Gittens said the shooting happened around 10:45 p.m. after two groups of about 15 juveniles and young adults began "squaring off" against each other. One person pulled out a handgun and fired into the crowd.
Two of the victims -- including the woman who was trampled -- were admitted to San Francisco General Hospital and the other eight were treated for non-life-threatening injuries and released. All are expected to recover. Gittens said police are interviewing the victims and trying to work out, from the many different stories, what the suspect looked like.
Police are also asking for any potential witnesses to contact them with information.
And while police attempt to find the shooter, other city officials are trying to figure out what went wrong and what can be done in the future.
Mayor Gavin Newsom told reporters today he thought the hundreds of officers assigned to the area Tuesday night kept things well under control until the shooting.
He also pointed out that because of this year's improved organization, ambulances were able to reach the victims quickly and get them to safety.
"I don't know if 500 more officers would have made a difference, truly," Newsom said. "If we're going to have metal detectors and wands, you know, then maybe that's not the event that this was always supposed to be about. If you're going to have an armed camp, if you're going to have national security guards ... then we may just want to pack it in and say, 'look, let's pick another venue.'"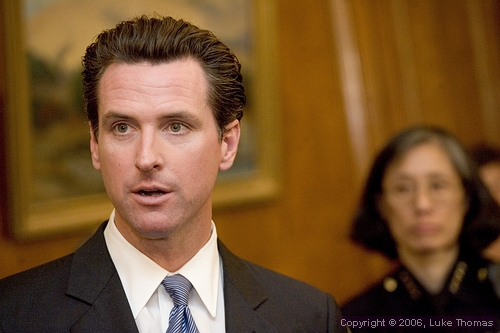 Mayor Gavin Newsom
Photo(s) by Luke Thomas
San Francisco Sheriff Michael Hennessey said today he wants to take a look at last night's events and make any necessary improvements.
"There's going to be a lot of soul searching about what we're going to do next year," said Hennessey, who was at the event supervising the nine checkpoints where sheriff's deputies searched for alcohol and weapons.
According to Hennessey, one of the few problems with the night's festivities was a series of "pinch points" and bottlenecks where the tens of thousands of revelers bunched into tight crowds.
In total, the Sheriff's Department made 25 arrests, mostly men and mostly for public drunkenness, but the numbers don't tell the whole story, Hennessey said, because they don't include juveniles who were taken into custody.
This year was the first time city officials planned to stop the event around 11 p.m. by calling in street sweepers and cleaning crews.
"Once the shooting happened, it was pretty clear that the night was over," Hennessey said. "We kept things calm by opening the gates and telling people to leave, urging people to leave."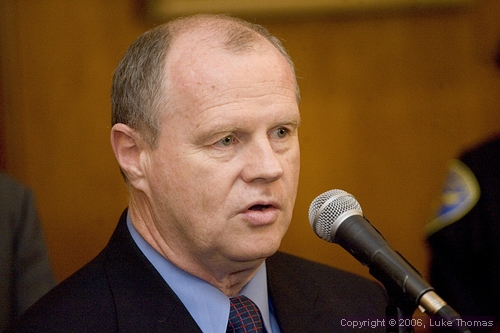 Sheriff Michael Hennessey
Although police are not characterizing this as a gang attack, Hennessey expressed concern that gang tensions could manifest themselves in the jails.
"We're highly on edge," he said. This year's shooting is not the first time violence has broken out at the annual event. The city took over the event after five people were stabbed during the 2002 celebration.
Police are asking for the public's help in identifying the shooter. Anyone with information, especially anyone who lives outside the city and may not have talked with police already, is urged to call the Police Department's tip line at (415) 575-4444.
Copyright © 2006 by Bay City News, Inc. -- Republication, Rebroadcast or any other Reuse without the express written consent of Bay City News, Inc. is prohibited.
####