Pride weekend a reminder
of what makes San Francisco special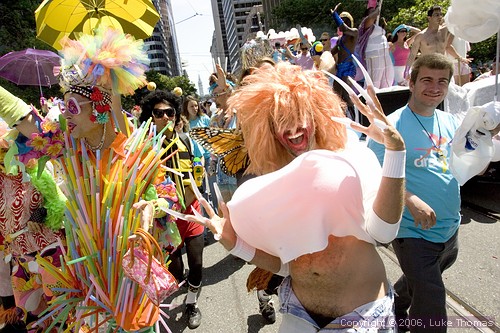 Photo(s) by Luke Thomas
By Mike Aldax

June 21, 2007
Christopher Wilkens loves living in San Francisco's lively Castro District, but he says the area can be too lively at times.
"The place goes off 12 months of the year," he said. "It can wear you out."
After 15 years in the Castro, the 38-year-old has often considered moving to the quieter suburbs. But he changes his mind every June during pride weekend, when the Iowa native is reminded why he moved to the West Coast in the first place.
"I moved after my first pride weekend and I've literally stayed because of it," Wilkens said.
"For me, it's an annual reminder of why I feel comfortable living here."
Wilkens will join thousands this weekend for the 37th annual Lesbian, Gay, Bisexual, Transgender (LGBT) Pride Parade and Celebration.
The celebration along Market Street and the Civic Center runs from noon-6 p.m. Saturday and noon to 7 p.m. Sunday.
Sunday's parade, which is expected to draw around 500,000 spectators, starts at 10:30 a.m., beginning at Market and Beale streets and traveling west to Eighth Street.
With more than 200 parade contingents, 300 exhibitors and 18 entertainment stages and venues, the event is the largest of its kind in the U.S., and maybe the most peaceful.
"It's great bringing together such a diverse group of accepting people," said Cheryl Kohout, media coordinator for SF Pride. "No one at Pride is concerned about society's prejudices. Once a year, everyone can just be who they are."
As usual, the world's most famous gay, transsexual and transgender stars will be on hand, including porn star Buck Angel, actress and performer RuPaul, Queer Eye for the Straight Guy's Jai Rodriguez and Heroes' George Takei.
RuPaul will be attending the screening of her movie Starrbooty on Saturday at the Castro Theatre, which is hosting the International LGBT Film Festival this week.
Buck Angel will be signing autographs at the Delores Park Trans Rally on Saturday with San Francisco sexuality product retailer Good Vibrations. The retailer has prepared 30,000 gift bags packed with condoms, lube and hand gloves to hand out.
Good Vibrations' gallery at 1620 Polk St. is also hosting an exhibit by noted photographer Duane Cramer, which runs through July. Also look for a performance of the musical HAIR and a concert by the San Francisco Opera on Saturday at 1:30 p.m. and 4:30 p.m., respectively.
SF Pride, of course, isn't only about fun and games. In accordance with this year's theme "Pride, not Prejudice," the event will honor Pat Norman, founder and executive director of the Institute for Community Health Outreach, for her lifetime of achievement in activism and service to the LGBT community. Norman is this year's Lifetime Achievement Grand Marshal.
"What separates this festival from Halloween in the Castro is the message it sends," said Chris Hansen of Noe Valley. "Pride is much less destructive (than Halloween). People coming here in October come for the craziness. They come in June for the message."
The full schedule of activities for Saturday and Sunday is posted at: www.sfpride.org.
Parade officials encourage visitors to take public transportation into the Market Street and Civic Center areas due to street closures. Most ferries into the city will be running early, organizers said.
Copyright © 2007 by Bay City News, Inc. -- Republication, Rebroadcast or any other Reuse without the express written consent of Bay City News, Inc. is prohibited.
####