Alioto-Pier proposes San Francisco sports commission on heels of 49ers snafu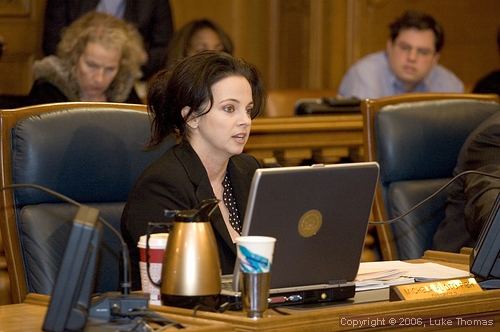 Supervisor Michela Alioto-Pier at yesterday's Board of Supervisors meeting
announced a proposal to create a city sports commission.
Photo(s) by Luke Thomas
By Emmett Berg, Bay City News Service
November 15, 2006
SAN FRANCISCO (BCN) - After a week of bad news for 49ers fans and Olympics enthusiasts, a San Francisco supervisor today proposed creating a city sports commission to help develop professional, amateur and recreational opportunities.
Supervisor Michela Alioto-Pier said the city currently has two different departments managing Monster Stadium at Candlestick Point, Kezar Stadium, Moscone Center and the Bill Graham Civic Auditorium. She also said that a variety of city departments are responsible for attracting and permitting sports events.
"We need a single body whose job it is to make sure that San Francisco has the best sports facilities, can attract major sports teams -- like an NBA or WNBA franchise -- and world-class events like the America's Cup" regatta, Alioto-Pier said. "First-rate sports teams and facilities are not only an economic generator, they are a source of pride for the entire community."
Sports councils are in place in 14 American cities including New York, Los Angeles, Philadelphia and San Diego, according to Alioto-Pier. The Los Angeles council has brought in $1 billion in economic impact since its inception in 1988, she said.
The supervisor yesterday asked the city attorney to draft enabling legislation for a sports commission, with members to be appointed by the mayor. A Board of Supervisors vote on the proposal could come within weeks.
Copyright © 2006 by Bay City News, Inc. -- Republication, Rebroadcast or any other Reuse without the express written consent of Bay City News, Inc. is prohibited.
####