San Francisco, EarthLink reach deal for citywide WI-FI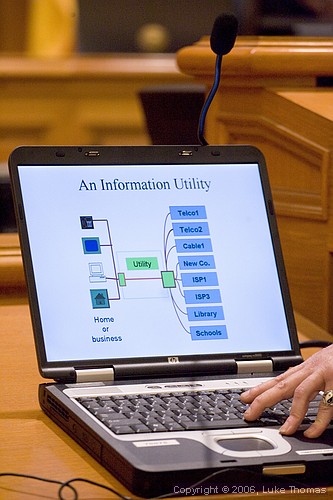 Photo(s) by Luke Thomas
By Tamara Barak, Bay City News Service

January 6, 2007
SAN FRANCISCO (BCN) - San Francisco Mayor Gavin Newsom announced that a deal reached yesterday between the city and EarthLink could make San Francisco the first major city in the country to offer free universal wireless Internet access.
The agreement will be a critical step in bridging the "digital divide" that separates low income communities from the benefits of technology, the mayor said in a statement.
"Ubiquitous WiFi will change how residents access education, social services and economic opportunities. This will make city government more effective and accountable to the people we serve," Newsom said.
The agreement comes after nearly a year of negotiations. The deal will now go to the city's Board of Supervisors for approval.
"It is my hope that the city's legislative branch will join me in leveraging the power of the Internet to enhance the lives of our citizens," Newsom said.
By partnering with the private sector, the city can provide WiFi at no cost to taxpayers, according to the mayor's office.
While many cities have WiFi "hot spots," the agreement with EarthLink promises citywide connectivity. The terms of the deal protect the privacy and security of all users and provides consumer choice through open access, the mayor's office reported.
The agreement for a citywide wireless network "catapults San Francisco into a leadership position in wireless technology," EarthLink President Donald Berryman said in a statement.
"The network ensures universal, affordable wireless broadband access for all San Franciscans, especially low income and disadvantaged residents; and through the mayor's digital divide program, children and students will have the digital tools to ensure that they have access to everything that the Internet has to offer the growing minds of the city's promising future," Berryman said.
Copyright © 2006 by Bay City News, Inc. -- Republication, Rebroadcast or any other Reuse without the express written consent of Bay City News, Inc. is prohibited.

####