Proposed adjustment to timeline
of San Francisco Health Access Plan
Adjustments in response to small business owner concerns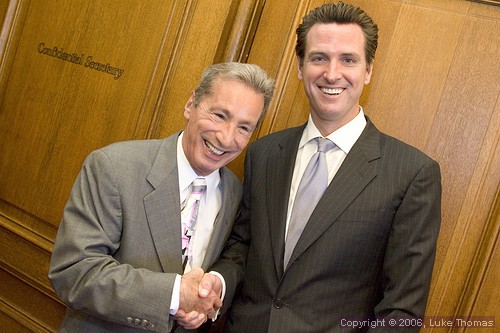 Supervisor Tom Ammiano and Mayor Gavin Newsom
Photo(s) by Luke Thomas
By Tamara Barak, Bay City News Service

March 2, 2007
SAN FRANCISCO (BCN) - With the backing of Mayor Gavin Newsom, San Francisco Supervisor Tom Ammiano on Tuesday introduced an ordinance to adjust the phasing in of the city's universal Health Access Plan.
The program, passed last year, will to provide healthcare for the city's estimated 82,000 uninsured residents.
The plan is not health insurance, because it cannot be used outside of the county of San Francisco, but it would provide a variety of medical services to participating San Franciscans.
According to the law change introduced Tuesday, the first phase of the Health Access Plan will begin July 1 and involve the most vulnerable, uninsured residents. The second phase will begin Jan. 1, 2008, and will involve those whose Health Access Plan is funded by their employers.
The new phasing is in response to concerns from small business owners.
"This legislation increases flexibility of local businesses to help meet the health care needs of their employees, and allows time for businesses to understand the Health Access Program so that they can participate," Newsom said in a written statement.
Copyright © 2007 by Bay City News, Inc. -- Republication, Rebroadcast or any other Reuse without the express written consent of Bay City News, Inc. is prohibited.
####