Court overturns police video creator's suspension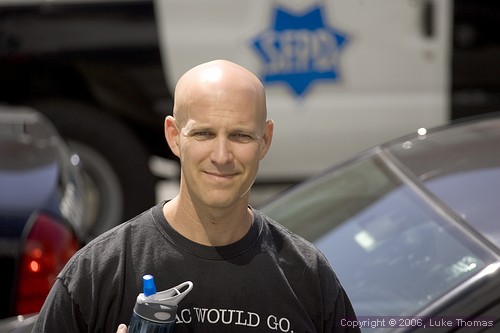 SFPD Officer Andrew Cohen, author of the infamous SFPD video that became known as 'videogate', should not have been suspended from his job,
a state appeals court ruled today.
Photo(s) by Luke Thomas
By Julia Cheever

July 5, 2007
A San Francisco police officer who created a controversial video parody three years ago should not have been temporarily suspended from his job, a state appeals court ruled today.
The Court of Appeal ordered the city to reimburse Officer Andrew Cohen for the four days of pay he lost during his suspension from Dec. 8 to 16, 2005.
The court said Police Chief Heather Fong didn't follow the Police Department's own rules when she suspended Cohen because those rules allow temporary suspensions without a hearing only in "exigent" or emergency situations.
A three-judge panel of the appeals court said the video did not create an exigent situation endangering the Police Department's ability to protect the public.
Justice Sandra Margulies wrote, "In our view, temporary suspensions may not be used a shortcut method of taking punitive action against an officer or as a tool for conducting public relations damage control."
The video showed skits of uniformed officers responding to mock police calls, including one scene that supposedly showed a homeless black woman who had been hit by a patrol car and another that depicted officers retreating into a massage parlor after avoiding a burglary call.
Cohen described the video as a "comedic parody of Police Department life" that was intended to boost morale, while critics called it sexist, racist and anti-gay.
The officer placed excerpts on a Web site and planned to show the video at a Christmas party for officers at the city's Bayview-Hunters Point station.
At a news conference on Dec. 7, 2005, the day after they became aware of the video, Fong called the tape "egregious, shameful and despicable" and Mayor Gavin Newsom labeled it "sexist, racist and homophobic."
Fong temporarily suspended Cohen without pay until a Dec. 14 administrative hearing to determine whether he should remain suspended until the Police Commission ruled on charges that Cohn brought discredit upon the department.
As a result of the administrative hearing, Cohen was returned to his job while awaiting a commission hearing, which has not yet taken place.
Twenty-three other officers who also allegedly participated in the video were also reinstated in their jobs.
Harry Stern, a lawyer for Cohen, called the ruling "fantastic."
He said in addition to getting back his four days of pay, Cohen will ask a Superior Court judge to require the city to pay his attorney's fees.
Matt Dorsey, a spokesman for City Attorney Dennis Herrera, said the ruling is "not a blockbuster" and said Herrera doesn't plan to appeal to the California Supreme Court.
Copyright © 2007 by Bay City News, Inc. -- Republication, Rebroadcast or any other Reuse without the express written consent of Bay City News, Inc. is prohibited.
####