San Francisco police and family
of slain officer issue statement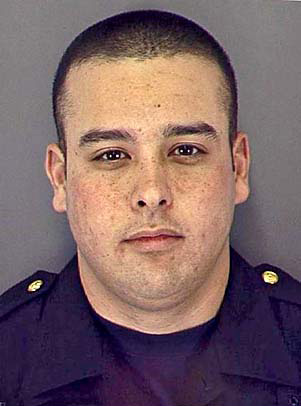 San Francisco Police Officer Bryan Tuvera, RIP.
Photo courtesy SFPD Public Affairs
By Ari Burack, Bay City News Service

December 25, 2006
SAN FRANCISCO (BCN) - In a statement released this morning, San Francisco District Attorney Kamala Harris expressed condolences to family, friends and colleagues of fallen San Francisco police officer Bryan Tuvera.
"The death of Bryan has been a tremendous loss and shock to us all," the statement read by a police official said. "Bryan was a dedicated and professional police officer, a loving husband, and a wonderful friend to all of us. The family requests that our privacy be respected as we try to cope with this unbelievable and senseless tragedy."
Tuvera was shot Friday night in San Francisco's Sunset District as he attempted to detain a state prison escapee. The officer was pronounced dead after being removed from life support early Saturday at San Francisco General Hospital, according to Mannina.
The man Tuvera was pursuing, 33-year-old Marlon Ruff of San Bruno, had escaped from a California correctional facility, according to police Sgt. Steve Mannina.
After Ruff fled from police near 25th Avenue, Tuvera was part of the effort to track him down, and when he and a partner spotted Ruff in the area, they pursued him as he fled into a home, Mannina said.
As they followed Ruff through a broken-down door in the home's garage, Ruff opened fire, striking Tuvera in the head, according to Mannina.
Mannina's partner returned fire, killing Ruff, Mannina said.
Tuvera, a four-and-a-half year veteran of the San Francisco Police Department, "served with distinction" at the Southern, Park and Taraval stations, receiving several reports of commendation from superiors as well as from private citizens, according to the statement from police.
His most recent assignment was in the Taraval Station's plain-clothes street crimes unit, according to police.
"Bryan demonstrated a remarkable dedication to duty reflecting credit to him and the members of the San Francisco Police Department," according to the statement issued by San Francisco police. "The Department's deepest condolences go out to the family and friends of Bryan Tuvera. He will be sorely missed."
Police are expected to announce the date of funeral services for Tuvera later this week, Mannina said.
Copyright © 2006 by Bay City News, Inc. -- Republication, Rebroadcast or any other Reuse without the express written consent of Bay City News, Inc. is prohibited.

####