Supes act to strengthen shelter monitoring
"This is about a minimum standard of care"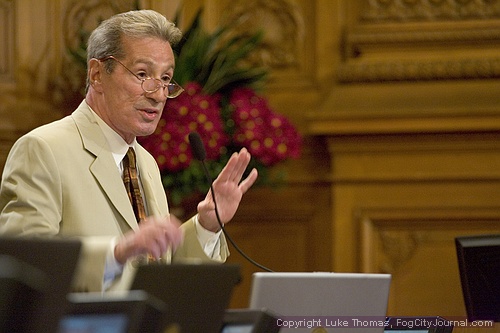 District 9 Supevisor Tom Ammiano
Photo(s) by Luke Thomas
By Julia Cheever

June 27, 2007
Passing a law amending three city codes was necessary, Supervisor Tom Ammiano said Tuesday, because the best efforts of a citizen monitoring panel on homeless shelters weren't enough to ensure that even items like toilet paper would be on hand.
The ordinance, by Ammiano and Supervisor Ross Mirkarimi, passed unanimously at the Board of Supervisors, endows the Shelter Monitoring Committee with powers it previously lacked.
The new code requires the Health Department to commit administrative support to the monitoring panel, requires committee members to maintain confidentiality on certain matters, and requires city departments to respond to reasonable requests for information within 15 days.
"They just get blown off," Ammiano said of the panel's previous requests for information. "But this is about a lack of toilet paper. This is about a minimum standard of care," Ammiano said. "In some cases this is about reports of mistreatment."
The supervisor said the following few months would be a critical juncture as advocates, caregivers and officials collaborate on the often contentious issue.
Most urgently needed, he said, were ways of helping staff at homeless shelters endure high employee turnover rates while providing service to shelter clients.
The Shelter Monitoring Committee delivers quarterly reports to the Rules Committee of the Board of Supervisors.
Copyright © 2007 by Bay City News, Inc. -- Republication, Rebroadcast or any other Reuse without the express written consent of Bay City News, Inc. is prohibited.
####