San Francisco launches solar mapping website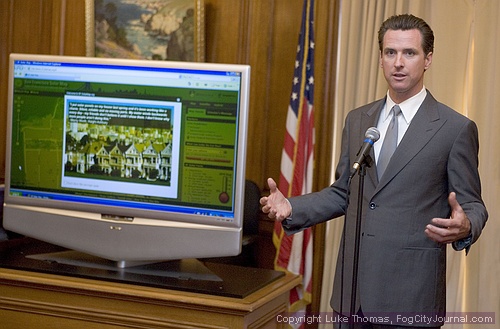 San Francisco Mayor Gavin Newsom announced the launching of a solar mapping website at City Hall Wednesday. Although federal tax incentives are expected to encourage residents and businesses to install solar panels, excess energy production rebate incentives presently do not exist.
Photo(s) by Luke Thomas
By Matt Wynkoop

June 21, 2007
San Francisco expanded efforts to promote alternative energies Wednesday by launching a new solar mapping Web portal that estimates solar energy potential for city homes and businesses.
The new Web site allows home and building owners to estimate the potential savings and environmental relief that would result from installing solar energy panels on the roofs of their buildings, according to a spokesman for the San Francisco Mayor Gavin Newsom.
By entering a San Francisco address into the Web portal, users can retrieve a solar potential analysis that produces a breakdown of property square-footage and the amount of savings likely to result from installing solar panels on a structure's rooftop.
The solar map uses Google maps to take into account rooftop angles and nearby shade producing trees or buildings, said San Francisco Department of the Environment director Jared Blumenfeld.
Users are provided with information estimating the amount of solar photovoltaic energy that could be generated from each roof, as well as the potential electricity cost savings resulting from installation, according to Blumenfeld.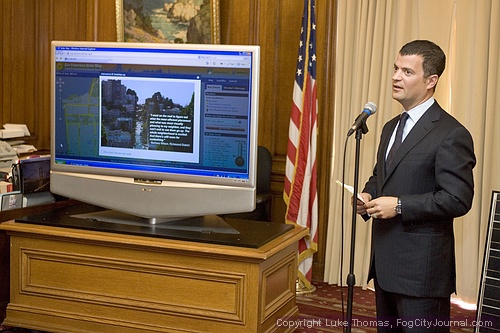 San Francisco Department of the Environment Director Jared Blumenfeld

According to Blumenfeld, excess energy generated by public solar panels cannot presently be sold to PG&E in the form of rebate incentives. He also said he wasn't sure if PG&E is supportive of public producing solar energy farms. Newsom, however, said the city will work with state authorities to mandate an excess energy buyback program to help stimulate investment in publicly owned energy producing solar installations.
The solar mapping also estimates potential carbon dioxide/greenhouse gas reduction resulting from the installation of a solar PV system, according to a statement from Newsom's office. Studies and testimonianls from other San Francisco businesses and homeowners who have installed solar PV systems are also available on the site.
"This new Web site is an easily applicable way to make solar more tangible and accessible to everyday community-members,'' San Francisco Mayor Gavin Newson said. "Residents and businesses can determine whether specific photovoltaic projects will pencil out, which is the first step to getting more renewable energy in the city.''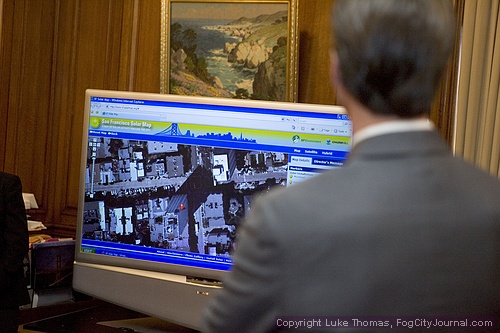 The project has been a partnership between Colorado-based CH2M HILL Enterprise Management Solutions and the city and county of San Francisco. It is available Online at www.sf.solarmap.org.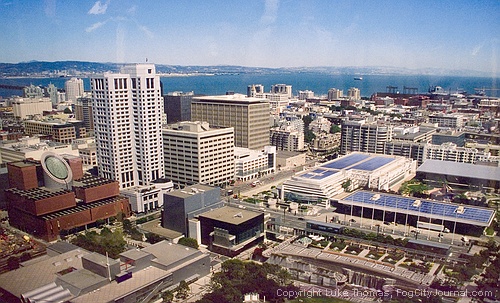 Luke Thomas contributed to this report.
Copyright © 2007 by Bay City News, Inc. -- Republication, Rebroadcast or any other Reuse without the express written consent of Bay City News, Inc. is prohibited.
####