Harris says Soma shooting
was random crime by dangerous felon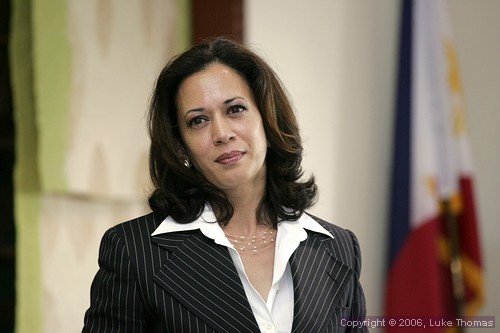 San Francisco District Attorney Kamala Harris
Photo(s) by Luke Thomas
By Tamara Barak

June 6, 2007
The man accused of shooting a pedestrian who was crossing a San Francisco street Monday afternoon is a convicted bank robber who drove into the city to commit a random crime against a stranger, San Francisco District Attorney Kamala Harris said yesterday.
The suspect, 37-year-old Kevin Lipscomb of Vallejo, is being held without bail in San Francisco County Jail. He appeared briefly in court yesterday, and is scheduled to appear again Friday to be assigned a public defender, Harris said at a press conference.
Lipscomb is charged with attempted murder with a firearm, eluding police, causing great bodily injury, firing from a vehicle, and being a felon in possession of a firearm.
He faces 25 years to life in prison if convicted on the charges, according to the district attorney's office. Along with bank robbery, Lipscomb also has a prior conviction for false imprisonment, Harris said.
The noontime incident began in the South of Market area as Lipscomb drove near Townsend and Lusk streets, San Francisco police Inspector Mike Morley said.
The victim, Kenneth Lee, was waiting to cross the street when Lipscomb called him over under the guise of asking for directions, Morley said.
As Lee bent down to help Lipscomb, the suspect then allegedly shot at him three times from a .40 caliber semi-automatic weapon, according to the district attorney's office. Lee was struck in the torso, but is expected to recover.
"It appears to be totally random," Morley said. He added the Lee did nothing to provoke the attack, and the men did not know each other.
Lipscomb sped off and police immediately received numerous calls to 911 describing the vehicle and relaying the license plate, police said.
Minutes later, police spotted the car less than a mile away at Mission and New Montgomery streets, in the city's Financial District. When officers tried to pull over the car, Lipscomb bailed out of the vehicle and ran three blocks before police took him into custody at the corner of Jesse and Annie streets, police reported.
Harris pledged to vigorously prosecute the case.
"You can't just come into San Francisco and commit a crime without consequences," she said.
She praised the witnesses that rendered aid and called authorities and said the crime was unusual.
"Random shootings in broad daylight are a rare occurrence in this city," Harris said.
Copyright © 2007 by Bay City News, Inc. -- Republication, Rebroadcast or any other Reuse without the express written consent of Bay City News, Inc. is prohibited.
####